ski trips for schools
– Switzerland
For
more than 30 years

, Les Elfes offer one-week fully supervised

ski trips to well-known mountain resorts

in Switzerland, while guaranteeing the highest quality and

safety standards

in the industry.
From absolute beginners, some of whom have never seen snow, to young athletes training as part of the school ski or snowboard team. Les Elfes offers a lively and enthusiastic approach...
The classic Les Elfes
ski trip

includes 6 days of skiing,

with fully supervised après-ski and evening activities. The Program includes a

ski race

with

BBQ on the mountain

and prize-giving show.
Ski trips do not always get the right consideration regarding the educational component they bring to students, but ski trips actually bring a lot of various positive and good skills...
Highest safety and supervision standards. Les Elfes has full control over all departments such as kitchen, drivers, animation, ski lessons, bed allotments, etc...
We offer your students
fully supervised, organised and guided ski trips

for the entire trip,  usually 1 or 2 weeks.
Each of our cultural excursion days is a little different, with new options each year for those returning campers who are ready to see something new! Whether it is souvenir shopping...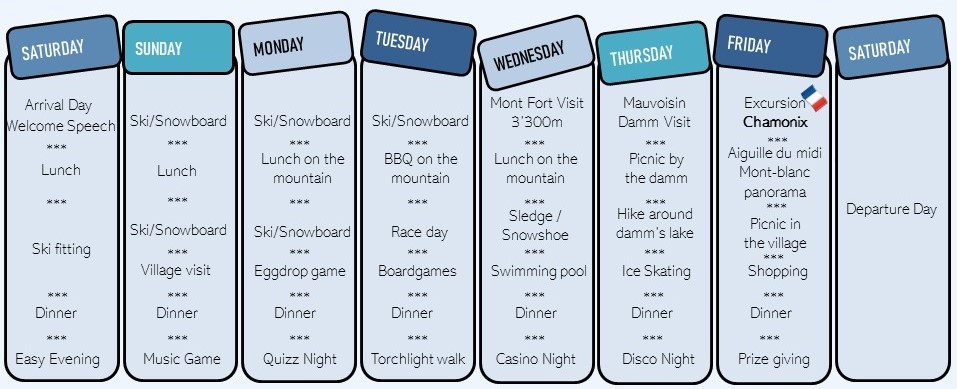 Hurry up as places are filling quickly !
(this program is only available for the week of April 13 and is subject to weather and road conditions)
Les Elfes Camps, a Swiss Ski Camp Perfect for School Trips, is located Directly opposite
Le Grand Combin

which rises to

4300m, located in Verbier, Crans-Montana & La Tzoumaz, Switzerland

  on a

south facing

plateau that guarantees an

exceptionally sunny climate.
Our four different, privately owned campuses are located in some of the most popular ski resorts in Switzerland: Verbier, La Tzoumaz and Crans-Montana.
Les Elfes ski trips are organized in 3 of the most famous ski resorts of Switzerland, Verbier, Crans-Montana and La Tzoumaz.
We are School Ski Trip Professionals.
Unlike many similar camps, over half of
our staff are employed

for the full year to ensure that the standard of

activities we offer

is consistently high.
Teacher step by step checklist
Find out the step by step timeline for teachers. This guideline will help you with the ski trip organisation.
A typical day at les Elfes will start with an early wake-up at 7.30am followed by a large continental breakfast until 8.45am. All skiers and snowboarders...
WATCH VIDEO
Having the proper ski equipment is essential for skiers and snowboarders of all levels. We propose equipment and clothing rental, so you don't need to worry about that. Here's information on ski and snowboard equipment needed for a day on the slopes...
School Ski trips do not always get the right consideration regarding
educational Component

they bring to students, but

ski trips

actually bring a lot of various

positive and good skills.
Each Camp is supervised by a Resort Manager, an Activities Manager and a Head Organizer. Les Elfes runs the camps with all appropriate staff, including monitors, organizers, kitchen staff, secretaries...
WATCH VIDEO
Gems & ALDAR Official Provider
Our students had a fantastic time! their staff looked after us extremly well. i have already booked the same week in La Tzoumaz for next year...
AT LES ELFES WE INTRODUCED A
LOYALTY PROGRAM

!
FIND OUT HOW TO 
COLLECT POINTS

 AND HOW TO WIN 

FANTASTIC GIFTS.
RELAXING HOUR AT THE SPA
150 POINTS
PARAGLIDING or DOG SLEDGING
300 POINTS
50% DISCOUNT FOR A STUDENT ON A SKI TRIP
800 POINTS
1 FREE WEEK FOR A STUDENT ON  A SKI TRIP
1000 POINT
LES ELFES SKI HOLIDAY FOR 1 ADULT
1200 POINTS
15-inch MacBOOK PRO
1500 POINTS

5-NIGHTS FOR 2 ADULTS ON A HOTEL IN SWITZERLAND
2000 POINTS

contact us to reserve your places
Good afternoon all,
We have now returned to school following our hugely successful trip to Verbier at the beginning of the month. I would just like to thank you and your team for such a wonderful trip. Our girls (and staff) loved every single moment, truly, nothing could have been better. The accommodation was clean, warm and cosy and Rosa was such a fantastic cook, she really looked after us and we all ate so well. The ski instructors were brilliant and built up such a rapport with our students, they helped build their confidence but still challenged them to become better skiers. The animation team were so kind, funny and caring, they made all the après ski activities fun and enjoyable. Finally Jenny was so helpful, nothing was too much trouble and she made sure that we were looked after from the moment we arrived to the moment we left. We have received so many lovely comments from parents and students excitedly telling us what a great time they had and they cannot wait to come again! Thank you to everyone at Les Elfes.
Hello,
I would like to say thank you to you and all your staff who made our trip so enjoyable. The students have come back from the trip absolutely buzzing and keep asking about next year already.
I thought every member of staff was fantastic, the ski instructors helped to challenge and push our students, whilst Iggy and the animation team were brilliant at keeping students entertained in the evenings.
We were really impressed by you guys and how you managed to run everything so smoothly. We thought staff were very professional at all times, being really caring and supportive to our students. It was also nice to see staff encouraging students to mix. Our students defiantly made some new friends and had lots of fun.
We would like to say how grateful we are to have come to Les Elfes and had such a wonderful time and how patient you were with us being our first time. Thank you for always being about and answering all of our questions.
Thank you,
The best school ski trip I've ever been on (and I've been on a few). The camp base is in a great location, right at the bottom of the gondola and within easy walking distance of all activities & shops. All meals are provided on site and are delicious with the Chef accommodating all dietary requirements. The centre has plenty of games to keep the children amused during any down time. The staff is incredible; experienced, fun yet safety conscious and they look after the children attentively 24/7. The schedule is well-thought out with excellent ski coaching and fun-packed afternoon and evening activities from tubing to torch-lit walks. I just loved the whole experience- it's definitely value for money and I couldn't recommend it more.
Thanks again for a phenomenal trip. The students are all exhausted with smiles on their faces back at school. I can honestly say, every one of them had a great time. They all advanced their skiing regardless of where they came in at whether it was never having seen snow before or having skied in the Alps since they were 3, each student can now more fully enjoy the mountains. The Avalanche education day was a good start and there is definitely potential there to do more. I could defiantly see a small group of students being keen for a ski tour later in the week using their strong ski skills and extending their understanding of awareness, travel techniques, and terrain selection. I think we have definitely reached a level of enjoyment that the trip will continue on for many years to come. Cat and Sharon are both very keen to continue the trip next year and we'll be sure to go the through the process of marketing the program, host and info session, and conduct registration this spring.
I've just been talking to Samir about our school trip before Christmas. He tells me that the students had a wonderful time and that has never experienced such good support on a school trip. I am delighted. Thank you for looking after my staff and students. We would like to send a bigger group of students next year. This was our first ever ski trip and already I am having students ask about the possibility of going in 2020-2021.
We had such a fantastic time. The Les Elfes staff were amazing from start to finish. They went out of their way to make us feel welcome in a home away from home. The resort manager did a great job with our Après ski activities and built up a real relationship with our children in such a short amount of time, this was just lovely to see. The cook did an amazing job in the kitchen and catered for every dietary need, including winning over a somewhat picky vegan! The professionalism and friendliness of the Les Elfes staff is one of the reasons that we keep coming back year after year and they have never disappointed. This year the snow conditions were amazing and the mountain virtually empty. A huge thank you to the whole team, we can't wait to be back next year!
Subscribe To Our Newsletter
You can subscribe to our newsletter to get to know about our latest products and exciting offers.