If you are tired of having to lock yourself indoors or of just doing the same activities every winter, it is time you tried snow camping. It is a great way of experiencing the intimacy and calming feeling of being out in nature. It also offers a unique way of escaping the monotony of modern life. And if you are worried about having to survive in the cold, you needn't worry.
With a little preparation, you can be able to conquer the wild and winter cold with ease. The following are useful camping tips that will come in handy in helping to ensure that you not only survive, but also enjoy your first winter camping trip.
Carry the Right Gear for Winter Camping Shelter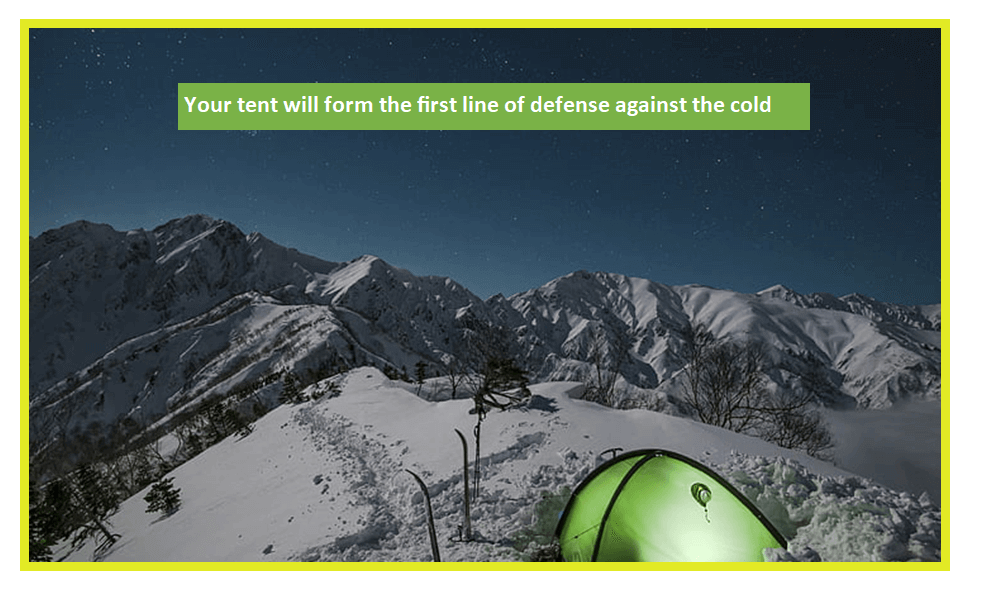 Your tent will form the first line of defense against the cold. Therefore, when deciding on which snow shelter tent to go for, you should ensure that it has sufficient insulation to slow the rate at which your tent's interior loses heat. It should also be sturdy enough to withstand high winds and the weight of accumulating snow. Making sure that it has a slanted top will make it easier for heavy snow to slough off, and this decreases the odds of your tent buckling under the weight of accumulated snow.
If it is your first time buying a tent, it is always advisable that you go for a 4 season tent. While it is still possible to get away with using a 3 season tent when snow camping in mild snow, these tents rarely hold up in harsher weather conditions. Therefore, going for a 4 season tent is a safer bet. Keep in mind that you will be using your tent for a long time and so having a tent that can withstand most winters will offer you more value.
And if the cost of the tent is something that you are concerned with, you can rent it. Some online stores also sell used snow camping gear that is still in great shape. You can get a good quality tent at a bargain from these stores.
When securing your tent, don't use the normal tent stakes. To avoid getting exposed to cold as a result of your tent getting swept away, you should use snow stakes.
Stock Up on Nutritious Food and Snacks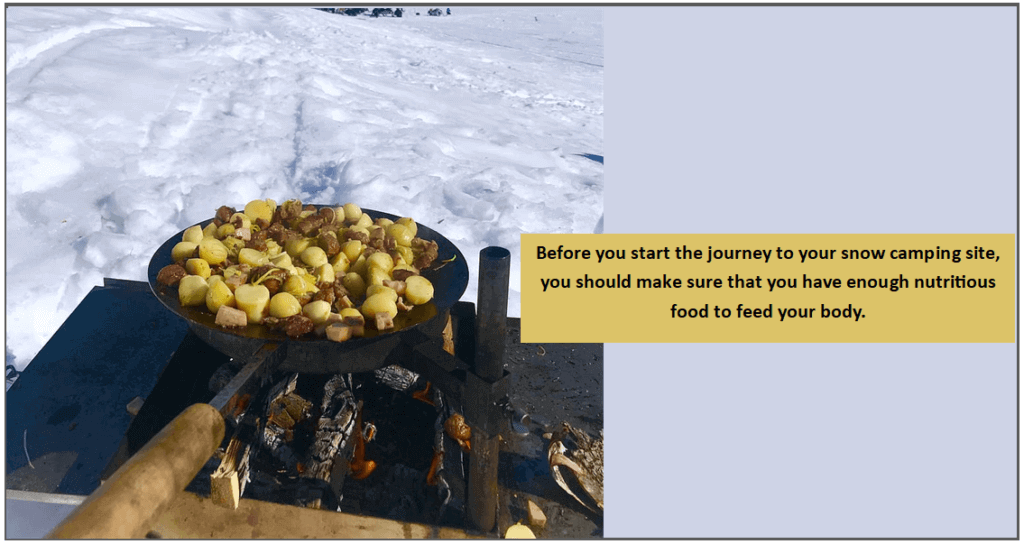 Your body produces heat naturally. Since you will need all the help you can get in your fight against the cold, making sure that your body has all the nutrients that it needs to keep you warm will help. Therefore, before you start the journey to your snow camping site, you should make sure that you have enough nutritious food to feed your body.
Stocking up on snacks is also a great idea. While they are rarely nutrient-rich, they are a good source of carbs. Having a healthy supply with you will come in handy when you are not really in the mood of preparing a meal or when you don't have the appetite to eat some of the food that you have packed. Furthermore, the act of nibbling your snacks can also help to keep you warm.
Find the Right Snow Camping Site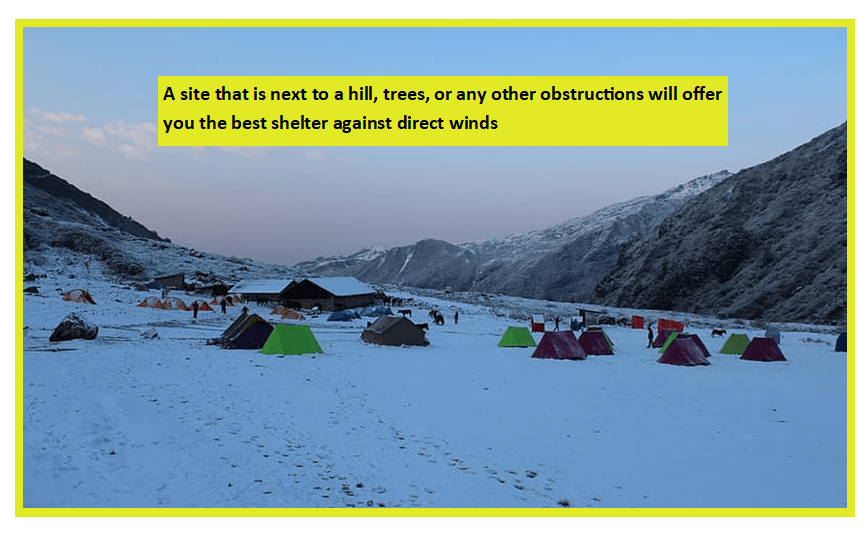 When it comes to cold weather camping, staying away from direct winds will help to reduce the rate at which your tent loses heat. Therefore, when choosing a snow-camp, make sure that you select a site that is shielded from direct winds. A site that is next to a hill, trees, or any other obstructions will offer you the best shelter against direct winds.
When picking a camping site in the backcountry, you should also consider its exposure to sunlight. Generally, camping sites that receive the sun earlier tend to warm up earlier and better. Therefore, if you choose a spot facing the direction of sunrise, you will have a better chance of warming up faster.
Once you find the right spot, start off the settling process by packing the snow. Use your shoes to stomp the spot until the snow is tightly packed. This will help reduce the rate at which the snow melts. As a result, it will prevent moisture from forming inside the tent, something that will go a long way towards ensuring that the place is more habitable.
To protect yourself against the devastating effect of wind, you can also use a snow shovel to dig into an area with deep snow. Digging in will create a wall that will protect you from direct winds. This may make it easier to deal with the cold.
As far as camping spots are concerned, choosing a site that is a good distance away from trails commonly used by hikers is also advisable. Also, ensure that your site isn't vulnerable to the common dangers of winter snow.
Get Good Winter Camping Sleeping Gear
At night, when it gets really cold, you will need extra protection. As a result, investing in high-quality sleeping gear that has sufficient waterproofing and insulation is important.
Sleeping pad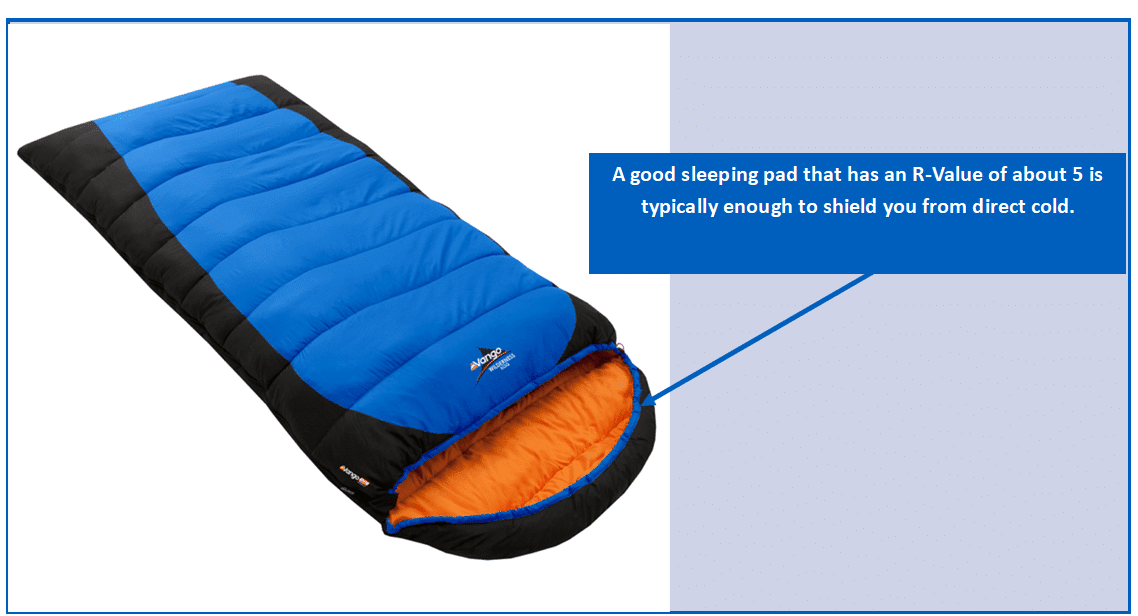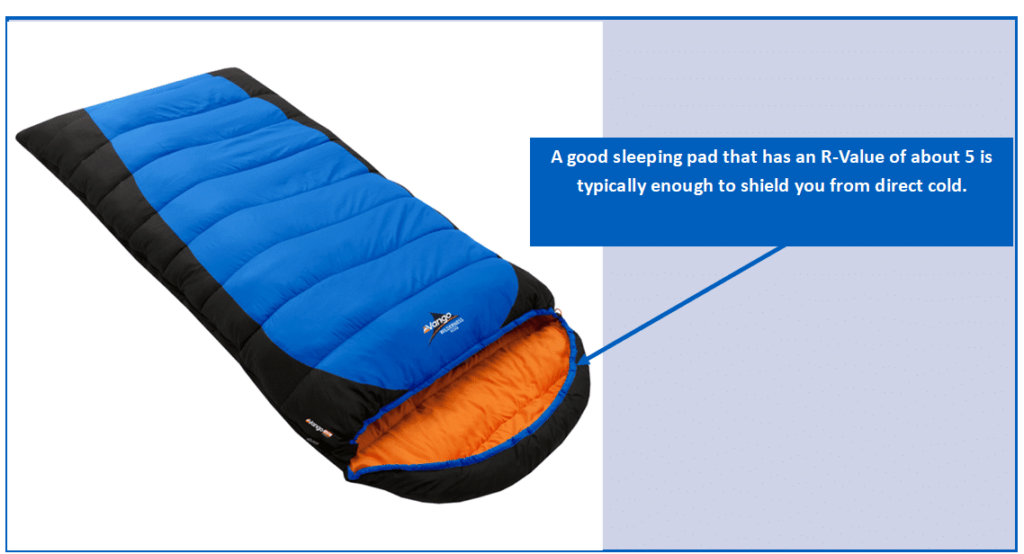 At the top of your list of things to get should be a sleeping pad. This is because the greatest danger you face while camping in snow is losing heat to frozen surfaces. A good sleeping pad that has an R-Value of about 5 is typically enough to shield you from direct cold. However, if you can afford pads that have higher ratings of up to 7.0, you should get one. It typically offers better insulation and usually goes a long way towards making sleeping in snow conditions more bearable.
For the best protection against the snow, it is always advisable that you carry two pads. One should be a self-inflating pad. The other should be a closed-cell foam pad. To set up your sleeping area, start with the closed-cell foam pad by placing it directly on the snow and then place the inflating pad on top of it. Provided both of these pads have R-values that are suitable for snow camping, this is bound to create a warm and comfortable sleeping area.
Sleeping bag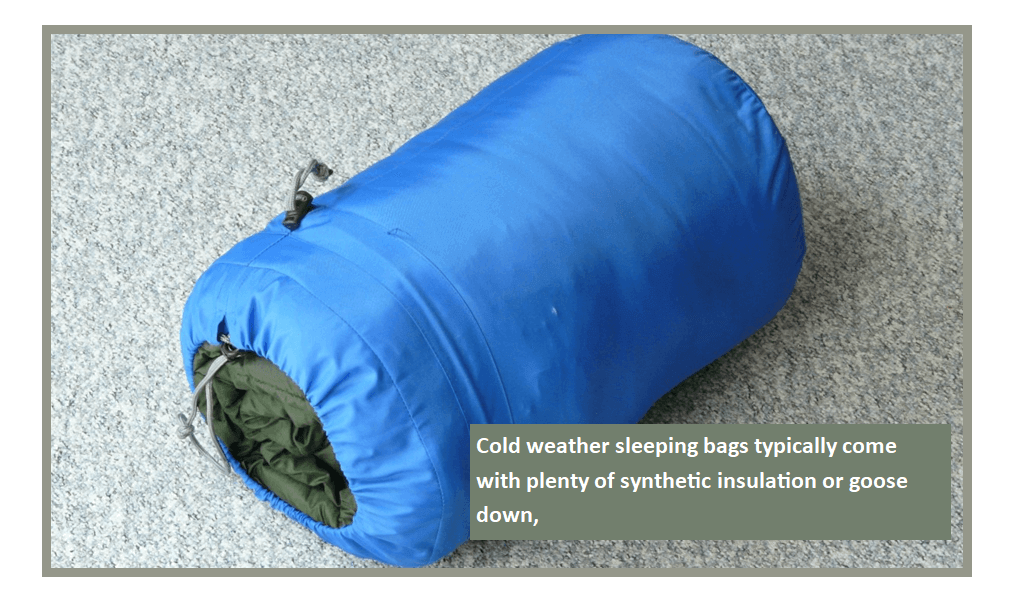 Getting a warm sleeping bag will also be key to helping you sleep comfortably. As a general rule, you should check the weather for the coldest temperature that you should expect, and then go for a sleeping bag that is rated as being perfect for conditions that are 10 degrees Fahrenheit lower.
In addition to having great insulation, the sleeping bag should also be able to fit snugly – or it should at least be adjustable enough to allow for a snug fit. This is because an oversized sleeping bag will leave a lot of space between you and your body. The space will then reduce the effectiveness of the bag in containing your body heat. It may thus leave you susceptible to experiencing the discomfort of harsh winter conditions.
Sleeping bag liner
It is always advisable to carry an extra sleeping bag liner. These accessories are great at boosting the insulation of sleeping bags. Therefore, having them at hand when your sleeping bag fails to give you the right protection from cold temperatures, will make your time more enjoyable.
Take Full Advantage of Your Body Heat
Since your body produces heat naturally, there is no need to let it go to waste. If there are any items or clothes that you intend to use the next day, don't leave them in your bag. Instead, put them in your stuff sack, and then place it on the sleeping bag, next to your feet. On an extremely cold night, even your phone will benefit from being next to you as your body heat will keep it at an optimum temperature.
When you start getting cold, you too can take advantage of your body's ability to produce heat. Simply start doing basic exercise routines like press-ups and jumping jacks. In no time, your body will start to heat up and you will stop feeling cold. The only thing that you should keep in mind when using this technique is to make sure that you provide your body with enough nutrients to keep up with your activity. Keeping a water bottle, that is full of hot water, by your side is also a good way to ensure that you are always hydrated and warm.
Invest in a Good Stove Kit
Taking a hot meal is an effective way of keeping warm. Therefore, having a stove that can function effectively in the cold and windy weather of winter is key to keeping warm. The trick to getting a good stove for snow camping is to look for one that has a wind-proof burner. With such a stove, you won't have to struggle using it, and this will make it easier for you to keep warm.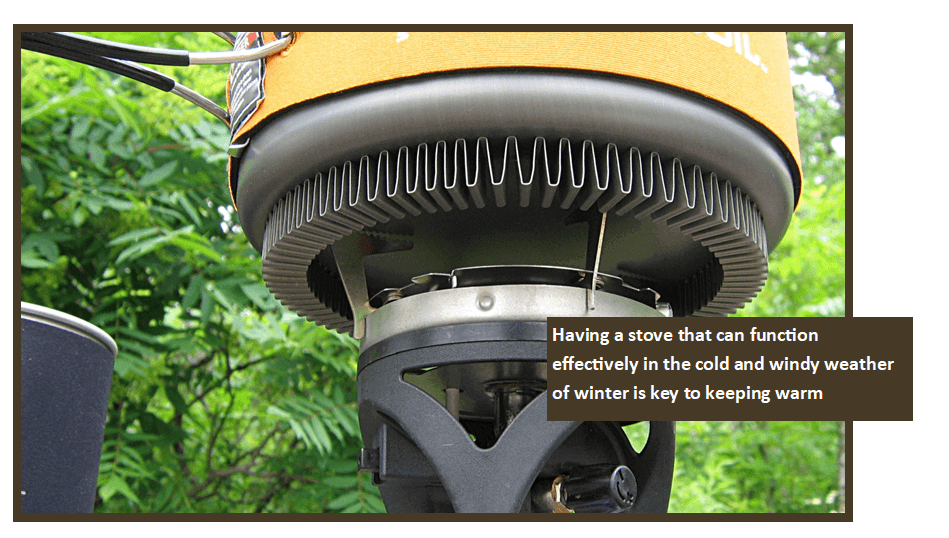 If you are going to carry a canister stove, you should make sure that it has a pressure regulator. In cold weather, these stoves can malfunction because of being depressurized. This feature will therefore help it to maintain its pressure.
You can also keep your stoves from malfunctioning by storing them in your sleeping bag while you sleep. Placing them inside your pocket will also help. This is because when you place the canister near, your body heat warms it.
To avoid getting stranded in the cold, it is prudent to always carry extras as far as your fuel and stoves are concerned. Also, choose stove kits that make backpacking easier. MSR has a lot of stove options available, and so going for the ones that are compact and light is always advisable.
Go with a Camping Partner
When you have a partner, keeping warm will be easier since both of your bodies will be actively producing heat. Since the two of you will be staying in the same tent, you will warm the space faster. Also, when you sleep close to each other, your bodies will warm each other and this will make retaining heat easier.
There is also the fact that when you embark on a cross-country camping trip, having company can make it easier to do heat-generating activities like exercising and other activities will be easier and more fun. In such a case, keeping warm will definitely be easier than having to deal with the cold alone. Having someone accompany you on your trip will make for a more pleasant camping experience.
If you have a family, you can also take them along on a family camping trip. It will be great not only for family bonding, but also for keeping warm.
Get the Right Clothing, Snow Shoes, and Related Accessories for Cold Weather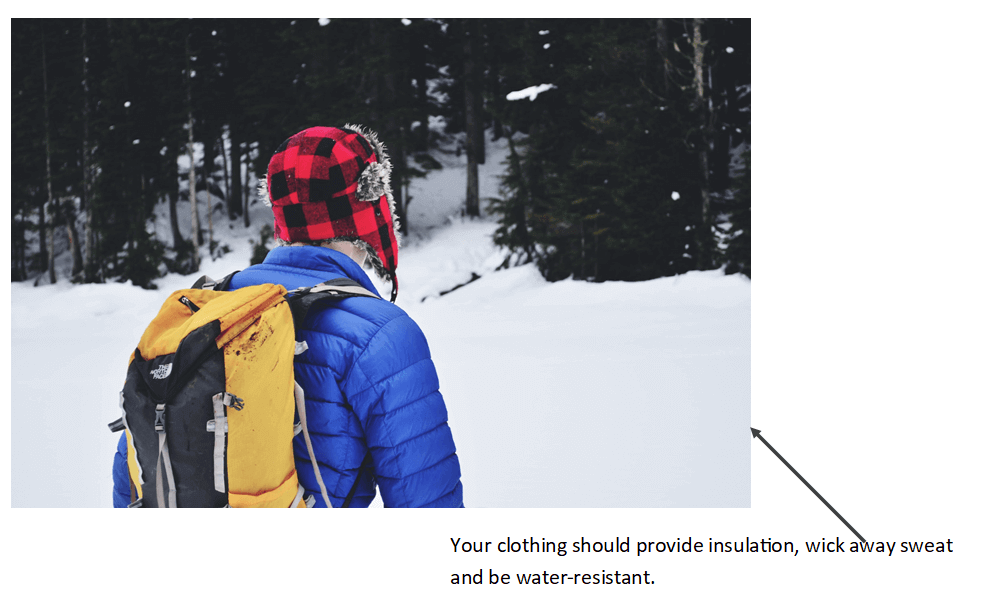 Your clothing should be able to do three things extremely well. The first thing is to provide insulation such that it minimizes body heat loss. The second thing is to wick away any sweat that forms on your body. It should also be able to provide a water-resistant cover that protects your body from soaking in freezing water. Therefore, when you are going winter camping, you should ensure that you have the following clothing.
A base layer
The base layer is the clothing that comes in direct contact with your skin. The best type of base layer clothing is the type that absorbs sweat from your skin. If it also dries quickly, then it is great for camping in winter. Clothing that is made from wool or polyester makes for a good base layer clothing option.
Middle layer
The middle layer provides the insulation necessary to keep you from losing heat. As a result, heavyweight fleece jackets and pants are a common choice among campers. Synthetic insulated jackets and puffy down jackets are also a good option as far as middle layer clothing is concerned.
Outer layer
Covering the middle layer will be an outer layer that helps to protect the rest of your clothing from the elements. The perfect type of clothing for this layer is one that can be both water-resistant and breathable.
Snowshoes and other trekking gear for warmth and comfort
If you are into mountaineering or any other winter activities, and are snow camping in a place, like a National Park, that offers a lot of great opportunities for trekking, you will need extra gear in order to keep warm and move around freely. A good balaclava will come in handy in protecting your face, while waterproof mittens or ski gloves will protect your hands from the cold. And if you are going to be exploring the surroundings by snowshoeing in the sun for extended periods, applying a little sunscreen on your face won't hurt.
According to REI, for comfortable snowshoeing, you need to first wrap your feet in comfortable synthetic or wool clothes. And as for the shoes, waterproof boots are ideal. Adding to your footwear good snowshoes with the right load rating and which have a wide-enough base to keep you floating in the existing snow, will make moving around easier.
A few extra accessories that will make moving around in snow easier include ice axes, gaiters, and crampons. Gaiters will help you avoid the discomfort of dealing with snow in your boots, crampons will give you the necessary friction to keep you from falling when walking on an icy surface, while an ice axe will come in handy in case you slip. Also, if you are going to engage in any winter sport, make sure that you also put on any safety gear that the sport requires.
Eliminate Cold Spots in Your Tent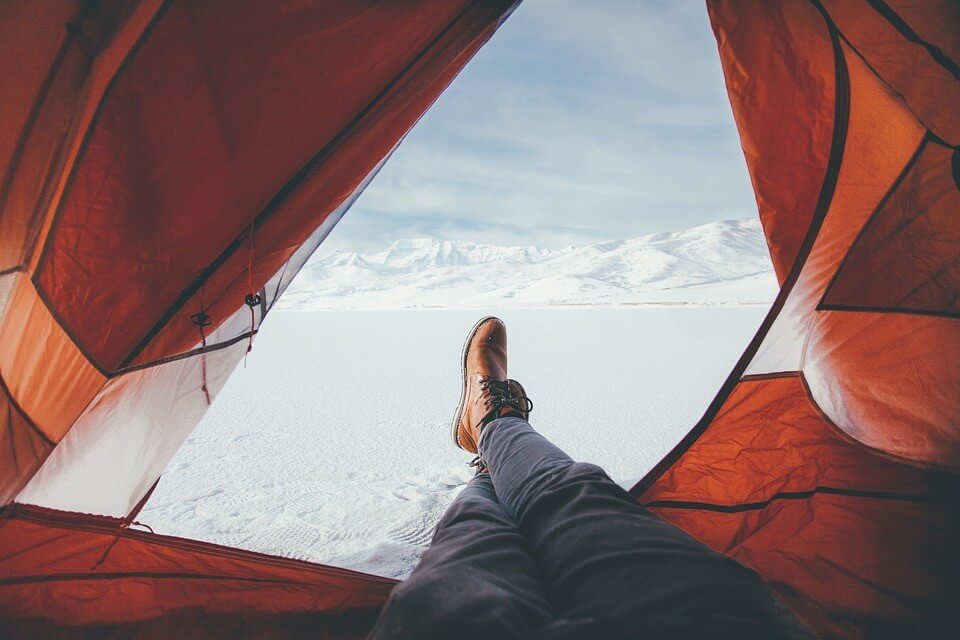 An easy way to reduce the risks of ending up with cold spots is to use the right tent size. While choosing a tent with a spacious vestibule and inner tent will increase the odds of having a comfortable camping experience, a tent with a lot of free space can create problems. It has more air and so to heat it up to a tolerable level, you need more heat. Keeping warm in such a tent will be a nightmare as it will tend to have a lot of cold spots.
Choosing a tent that fits you and your belongings, and nothing more is, therefore, an easy way to increase the odds of keeping warm. And if you already have a tent that is a size too large, you should consider filling it with a lot of layering. Doing so will reduce the amount of free-flowing cold air in the tent and it is something that will go a long way towards reducing the occurrence of cold spots.