Switzerland is one of the must-visit countries best known for its breathtaking mountains and beautiful scenery. Many celebrities flock to the country to relax, shop, sample the nightlife, ski, and indulge in some of the world's best chocolate, cheese, and wine. The country hosts some of the most famous celebrities in the world annually. Why do celebrities love Switzerland? Which celebrities have ticked the country off their bucket list? Let's find out below.
Where do Celebrities go in Switzerland?
Switzerland has been popular among A-listers for a long time for its polished cities, irresistible ski holiday resorts, amazing culture, music, spectacular five-star accommodation, and art. Moreover, Swiss residents value discretion and privacy, explaining why many celebrities prefer visiting Switzerland regularly. Which places do celebrities visit while in Switzerland?
· Verbier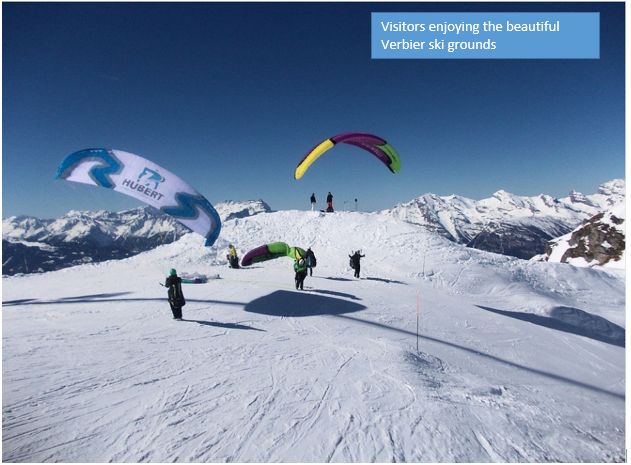 Verbier is one of the leading ski resorts in Switzerland for celebrities. The alpine village has hosted well-known people, such as the Beckham and James Blunt. The Lodge, a chalet with 18 staff, and the Duke and Duchess of York. The most popular Verbier nightlife location is the Farm club, where celebrities flock regularly. They love that the clubs are usually packed, reducing the chances of people recognizing them.
· St Moritz
St Moritz is a celebrity luxury hotspot located in Engadin valley, Switzerland. Numerous celebrities flock to this area to sample the incredible Swiss slopes, especially during winter. Some of the best designer shops and renowned spas are available in St. Moritz. The resort is acknowledged as the location where skiing was invented. Further, it hosts some of the liveliest new year parties. Celebrities who have visited St. Moritz include Ivana Trump, Liz Hurley, Robert de Niro, and John Travolta. Must-visit places in St. Moritz include the Kempinski Grand Hotel des Bains' casino, Badrutt's Mario bar, and Kulm Hotel's Dracula club.
· Montreux
Montreux lies on the shores of Lake Geneva. It has been a hotspot for celebrities since Lord Byron lived there for months in 1816. The town is home to the Montreux Jazz Festival. Queen frontman Freddie Mercury christened Montreux the town of peace. Famous people who have lived in Montreux include Vladimir Nabokov, Ernest Hemingway, Graham Greene, and Charlie Chaplin.
· Zurich
Zurich is the biggest city in Switzerland. Celebs who have visited the city include Paris Hilton. She spent a long time in the city while dating Thomas Gross, a local billionaire. Tina Turner is Zurich's long-term resident, with her residence in Kusnacht. In 2014, Tina git married in the city and acquired Swiss citizenship. She once said that she loves everything about Switzerland.
· Zermatt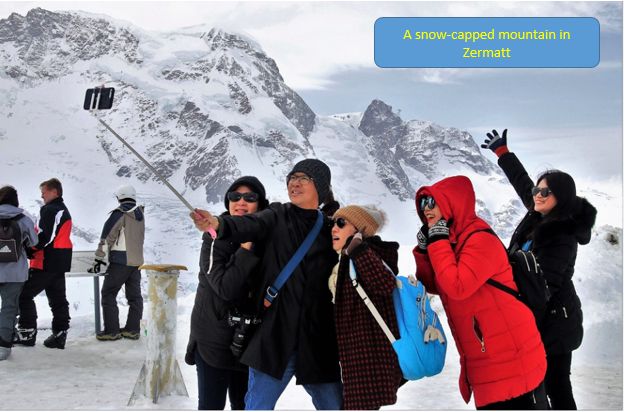 Zermatt is a lavish and discreet Swiss ski resort popular with celebrities. The town nestled in Valais's canton features beautiful Matterhorn views. Only electric cars are allowed in this town, guaranteeing clean air. Frida Lyngstad of the music group Abba lives in Zermatt with her partner, while Phil Collins is a chalet owner in the town. Renowned people who ski in Zermatt include Angelina Jolie, Brad Pitt, Nicole Kidman, Angela Merkel, Thierry Henry, and Robbie Williams. Popular hangout joints in Zermatt include the Vernissage comprising a gallery, nightclub, restaurant, bar, and the Cervo where you can get aprés ski drinks; and Chez Vrony.
· Davos-Klosters
The neighboring towns of Davos and Klosters are popularly known for hosting the WEF meeting in January every year. The meeting attracts celebrities and the world's elite in the business, financial, and political industries. The region is also popular with British, Swedish, and Danish royals, including Prince William and Kate. Renee Zellweger and Leonardo DiCaprio have also been spotted in Davos-Kolsters. There are numerous chalets in Davos-Klosters, allowing celebrities to enjoy an anonymous experience.
Why is Verbier so Popular?
Verbier is located 1500m high in a natural bowl. It's a stunning ski resort without the highrise buildings famous in other alpine resorts. Chalets in Verbier face southwest. Unlike other ski resorts in Switzerland, Verbier enjoys many sunny days and incredible mountain scenery. Due to Verbier's high altitude, visitors are always guaranteed snow and the opportunity to ski along the glacier during winter. 
Verbier is part of the Four Valleys ski area, which provides 93 modern ski lifts and more than 400 kilometers of ski runs. The extensive ski area guarantees something for every skier. Verbier is one of the top off-piste resorts in the Alps, making it a skiers paradise. It is ideal for nightlife lovers and has numerous discotheques and bars. The region has some of the best nightlife spots and apres-ski activities in the Swiss Alps. If you don't fancy skiing, you can visit the art galleries and alpine museums, go shopping, relax at the sauna, or take a dip in an indoor swimming pool.
Where do Celebrities Ski in Switzerland?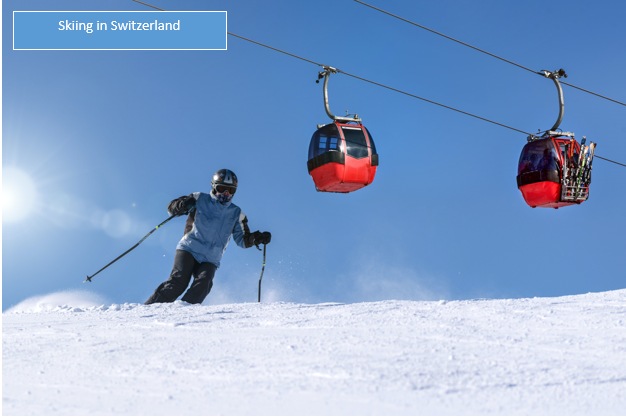 Gstaad is one of the most popular locations for celebs. It offers soft powdery slopes, fancy restaurants, luxury boutiques, massive hiking trails, and grandeur hotels and chalets. Gstaad has resisted the pressure for expansion to retain exclusivity, making it a popular location for celebrities. Famous people who have skied in Gstaad include Madonna, Pari Hilton, David Bowie, and the Thai royals.
· Verbier
Verbier offers a complete panoramic view of the Combins massif and the Mont-blanc. Visitors can participate in snow biking, skiing, snowboarding, sledding, and paragliding. Winter sports are popular for celebrities visiting Verbier during winter.
· Crans Montana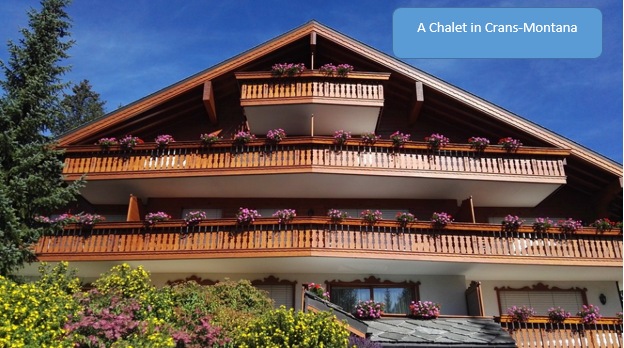 Crans Montana is an ideal skiing spot that attracts numerous celebrities annually. It's the perfect spot for sunny skiing during winter. Crans Montana is a peaceful and quiet place, explaining why many celebrities love skiing here.
Who are some Well-known Celebrities that Visit Verbier Switzerland?
While Verbier is a ski resort, it resembles a Swiss town and attracts a thriving community all year round. It boasts aprés ski bars like Le Pub Mont Fort, the Farinet, and Michelin-starred restaurants. Verbier is a hotspot for celebrities like Jude Law, Priyanka Chopra Jonas and Nick Jonas, James Blunt, Prince Harry, Jamie Oliver, Ronan Keating, Barack Obama, and ​​​​Leonardo di Caprio. Pixie Lott visited Verbier with Oliver Cheshire, her boyfriend, for New Year and stayed at the Le Farinet Lounge.
How can you get to Verbier?
The ski resort and village of Verbier lie in the canton of Valais, southwest of Switzerland. It is 160 kilometers east of Geneva airport, an hour and a half's drive from Aosta, Chamonix, or Brig. Verbier has one access road, starting in Le Chable town. You can access Le Chable ton by road through Sembrancher from the west of Martigny or the south from the great St. Bernard Pass Italy. Visitors can reach other regions of the 4 Vallees ski area by road through Sion. The St Bernard Express train is the preferred mode of transport to Verbier from Martigny.
· Flights to Verbier
Geneva is the best international gateway to Verbier, with easy transfers through a private shuttle, bus, or train. Located close to Verbier, Sion airport is convenient for travelers from Zurich or London.
· Hotel and Airport Transfers
Skiing enthusiasts prefer boarding the train from the airport to Verbier because they can upgrade to first class on most journeys. Celebrities and large groups of travelers prefer private transfers instead of public transport to Verbier.
· Bus or Rail Transport to Verbier
One of the best and most affordable ways of traveling to the 4 Vallees and Verbier is via train. Travelers can get train access from different parts of Europe, such as Brig and Geneva airport through Martigny. The IR90 train operates directly from Geneva airport at intervals of 30 minutes to Martigny. 
The journey lasts approximately 1¾ hrs. From Brig, two to three hourly train services travel to Martigny for between 50 to 70 minutes. The duration depends on the number of stops the train makes. If you opt to fly to Sion, you'll take a taxi ride or make a 2km walk from the airport to the train station. 
Regular trains make 12-minute trips from Brig to Martigny. The St Bernard Express operates to Le Châble every 30 minutes, from where a taxi, bus, or gondola will transport you to the ski resort. The Verbier gondola is adjacent to the newly renovated Le Châble train station.
· Bus from Aosta
The train is the most effective and comfortable means of transporting many travelers. However, if you're traveling from Aosta in Italy, you can take the bus that operates twice daily on Tuesday and Friday and once on Sundays. The bus stops at Sembrancher railway station to connect with the St Bernard Express to Le Chable and Verbier.
· Driving to Verbier
Driving to Verbier should be a smooth experience. The journey from Italy through the Grand St Bernard Pass traverses a higher terrain. A roof covers the road from Crevacol, and you'll have to pay exorbitant fees at the Grand St Bernard Tunnel. The final road section from Le Chable to Verbier stretches up a massive 700m vertical. If you're not confident about navigating icy grounds, you can park your car free of charge and take the post bus or gondola to the ski resort.
· Car Hire and Rental
Car hire and rental services are available in all major cities and airports. However, many snowboarders and skiers don't need a car unless they intend to sample adjacent ski resorts. The nearest car rental companies to Verbier are in Montreux & Lausanne, Aigle, and Bex, north of Martigny. They are accessible by train. Travelers can also access cars at Sion airport and downtown. Zurich and Geneva's airports are the best places to rent a car while in Switzerland. However, beware of exorbitant security deposits.
Finally
Verbier is one of the top destinations in Switzerland for celebrities, especially during winter. Some areas in this ski resort are covered in snow all year long, making it a hotspot for winter sports enthusiasts. Are you planning to visit Verbier anytime soon? Use this article as a guide to help you navigate the region.