Whether you prefer winter backpacking or cross-country skiing, you want to be well prepared. Have the right gear to keep you warm and help you withstand sub-zero temperatures in winter. Are you planning your winter camping trip? Here are some of the tips to help you have a great experience.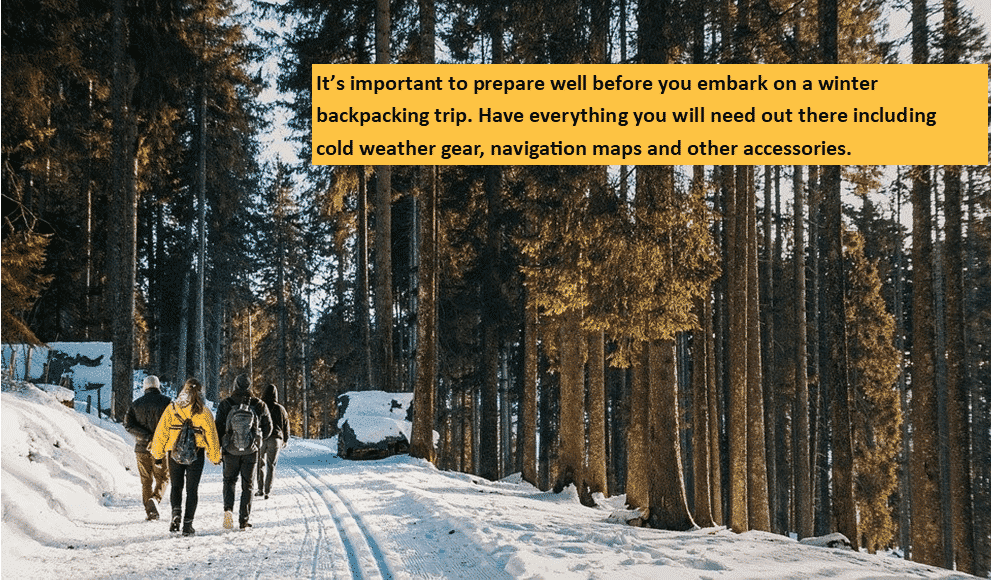 Select a Winter Backpacking Trail
Selecting the proper trail is crucial for skiers looking to have an excellent winter backpacking trip. If you are going winter camping for the first time, a short winter hiking trail will be ideal. Aim at having the best experience while avoiding any risks.
The campsite you choose should at least feature a sunny location or allow you to watch the sun as it rises. Make sure your preferred trail has a camp location close to open water for cooking and drinking. In such a case, you will not have to use melting snow or even ice. Finding a campsite with many downed wood would be ideal because campfires are critical during chilly winter nights.
If you plan to go winter hiking, try to avoid areas with swamps, stream crossings, or regions that are prone to flooding. Further, you want to avoid walking on frozen lakes because falling can spoil your trip.
Have an Emergency Exit Plan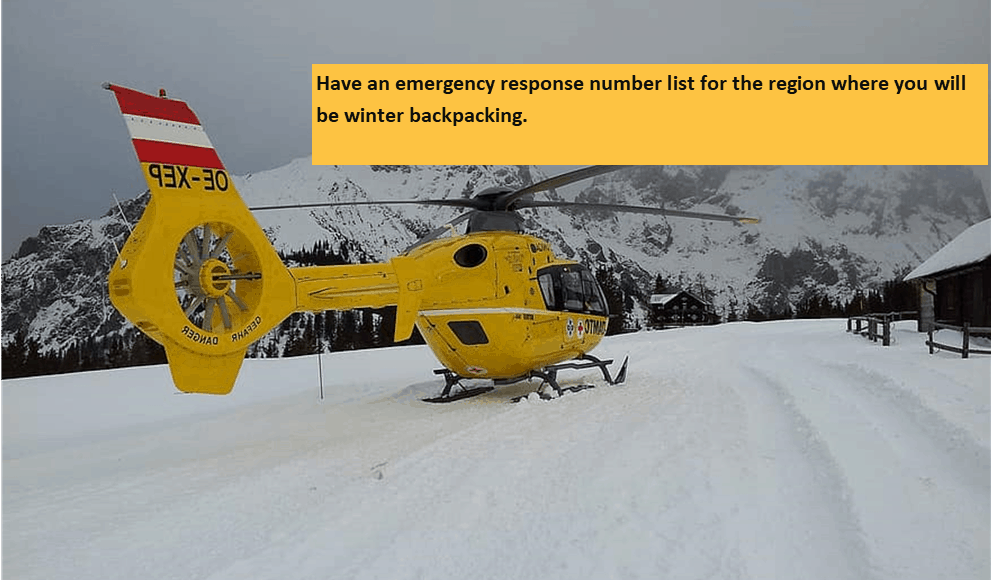 Emergencies often occur in the wilderness, and you need to be prepared to facilitate effective and fast evacuations. As you analyze your trail maps and outline your itinerary, identify the fastest routes to the highway or even road near your path. Have an emergency response number list for the region where you will be winter backpacking. It is worth mentioning that 911 will not always work, especially in the wilderness regions.
Collect a list of reliable emergency contact numbers from the forest ranger center in your area and keep it safely inside your first aid kit. When an emergency strikes, you will only need to pick your list fast and call for help.
Plan Your Trip Itinerary and Obtain Permits
Obtain the right map of the area within your preferred trail before you can start planning your route. Include your preferred campsites and daily mileage. You will need to present this information when obtaining permits. You can also use it to establish the number of calories you will need when you start your food planning process.
Obtain a permit from the forest ranger station of the region you will be visiting if need be. You will need the following details to process your permit:
The start and end date of your winter backpacking trip
Your emergency exit arrangement
Your campsite location for each night
Learn and Practice how to How to Assemble a Camp during Winter
To build a camp during winter, you should be conversant with some campsite preparation steps. Prepare to arrive at your preferred campsite before sunset. You will have an easy time setting camp in broad daylight. Here are the steps you need to follow.
Pick the Suitable Winter Campsite
Select a location away from the wind
Be on the lookout for frozen and dead branches that may fall on your tent from above.
Where possible, choose a location where there is non-frozen running water.
Mark some landmarks to help you identify your campsite in the snow
Build your camp where the sun will shine through and offer that necessary morning warmth
Building Your Tent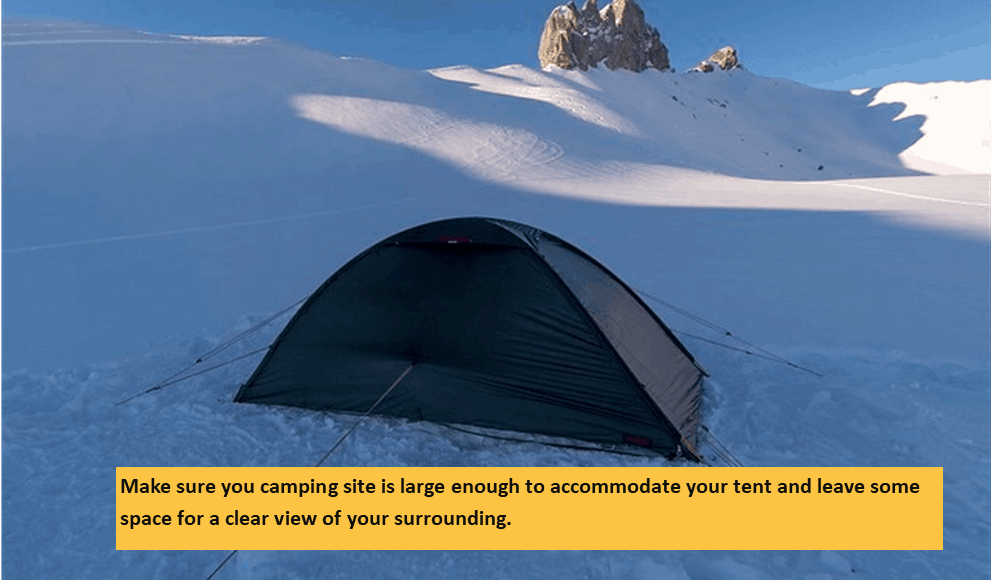 To keep yourself warm, try layering up in dry camp clothing. Do not forget dry mittens and socks, and a warm hat. Always pack an extra pair of warm clothing to be on the safe side.
Make sure your campsite area is broader than your tent.
Use specially designed tent stakes for snow when building your tent.
Where there is no natural wind wall, be sure to build an artificial one
Keep sharp-edged tools such as ice axes and crampons out of the tent.
Fasten your camp to avoid losing your belongings beneath the snow
Put everything away after use. You want to know where all your belongings are.
Keep your snowshoes, skis, hiking boots, and trekking poles in an upright position in the snow.
Set Up Your Winter Kitchen
Building a dream kitchen during a winter camping trip can be exciting. Use a shovel to remove the snow and shape it to create a cooking area, tables, seats, and a storage area. Incorporate your creativity to make it as detailed as possible.
Adhere to the Leave No Trace Camping Requirements
Backpackers should observe Leave No Trace camping policies. Let us look at some of these considerations regarding winter camping.
Try to remain on deep snow cover as much as possible.
Wrap toilet paper and human waste in a plastic bag. Dig an 8-inch deep hole in the ground at low elevations. Bury the waste, and place a rock on top. The rock prevents animals from digging it up.
Build your camp approximately 200 feet away from a water source, trail, and other campers.
Respect the wildlife and view them from a far off distance. Remember, many wild animals are vulnerable during winter.
Avoid breaking or cutting off the limbs of the dead, live, or even downed trees.
Food and Drink Tips to Help You during a Winter Camping Trip
Your body utilizes lots of energy when you are hiking in snowy-cold landscapes. To keep your body warm and energetic during and after your winter activities, you should hydrate and eat well. These water and food tips will come in handy.
· Consume Simple but Hot Meals during Your Winter Backpacking Trip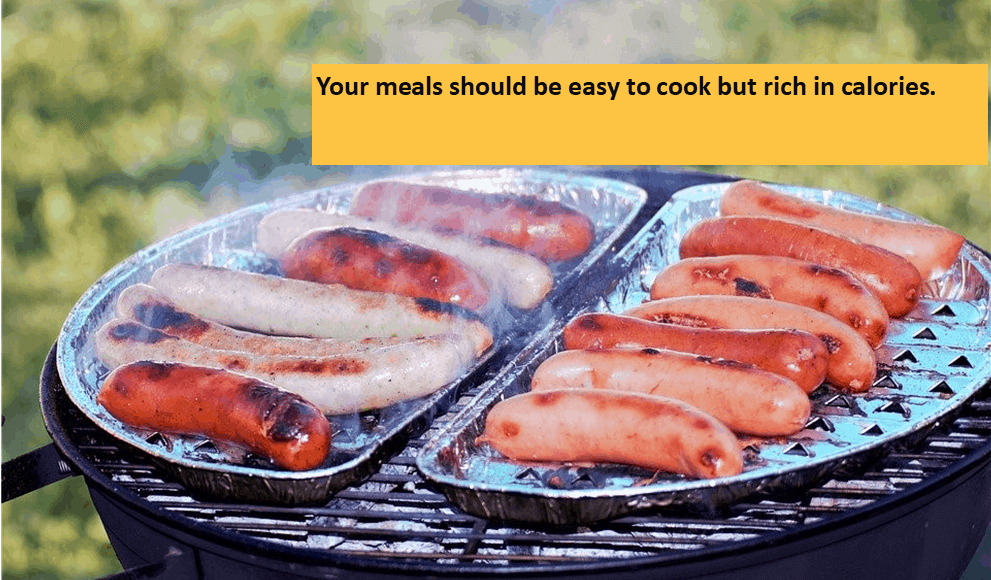 A hot meal can be quite satisfying during your winter camping trip. However, ensure your meals are simple to avoid cleaning many utensils during snowy conditions. Your meals should be easy to cook but rich in calories. All in one pot meals are ideal for backpackers during their winter backpacking trip. Consider freeze-dried breakfast meals and entrees and familiarize yourself with simple meal planning practices.
· Set aside Time for Lunch Breaks
During lunch, opt for quick grab energy-rich sandwiches or snacks. Ensure they are rich in fats, proteins, and carbohydrates. Avoid prolonged breaks during lunch and instead, chew on your snacks on the go.
· Adopt Proper Food Storage Practices
Remember, wild animals such as bears are usually in a state of deep sleep during the winter season. However, some creatures will attempt to attack your food if you do not keep it in a safe place. Store your food securely inside your backpack or food storage container and use a rope to suspend it from a tree. Remember, some regions might have food storage regulations. You want to figure these out before embarking on your winter backpacking trip.
· Hydrate Often
Many people avoid drinking water during winter, which leaves them feeling thirsty and toasty, as is the case during hot summer days. To be well hydrated, campers and backpackers should sip on the water often across the day. Consider preparing hot drinks at the campsite such as hot chocolate, herbal tea, or hot soup to hydrate and warm up your body.
· Utilize Bottles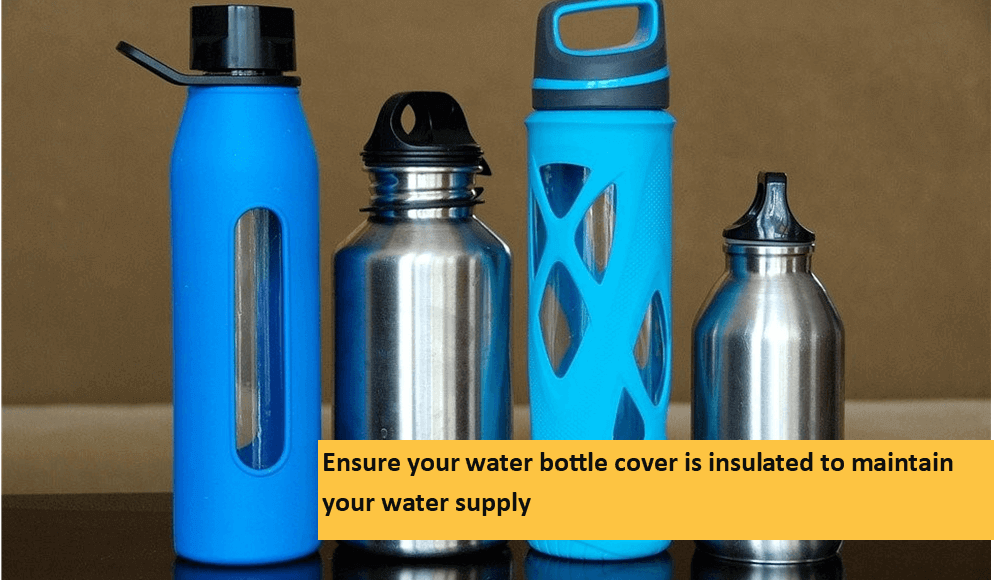 Instead of carrying their hydration containers during winter, many campers opt for Nalgene water bottles. Reservoirs come with tubes that can be affected by frostbite, denying them something to drink. To maintain your water supply during your camping trip in winter, ensure your water bottle cover is insulated.
Winter Camping Gear you need to Enhance Your Camping Experience
While winter gear forms a crucial part of your winter backpacking trip, it is heavier than what you need for a summer camping trip. Expect to carry up to 40 pounds of gear for your winter day hikes. Here are some of the things you should consider when buying the additional winter gear you need for your backcountry winter experience.
· Backpack
A large backpack is ideal for placing all the extra gear you require for a winter trailhead excursion. If you are going out for a snowshoeing weekend adventure, a 65-liter ultralight backpack will be ideal. Ensure it features lash points for ice axes and snowshoes. Line up your pack with a non-perfumed garbage disposal bag or even a dry bag that will maintain dryness inside the bag.
· Tent
A good quality tent should keep you warm during the winter season. Consider a freestanding dome-shaped 4-season tent. Setting up this design will be simple in the snow, and it will allow snow to shed off with ease. 4 season tents feature additional setup guylines for added stability during strong winds. They also come with a large vestibule that facilitates the storage of items and cooking processes.
· Sleeping Bag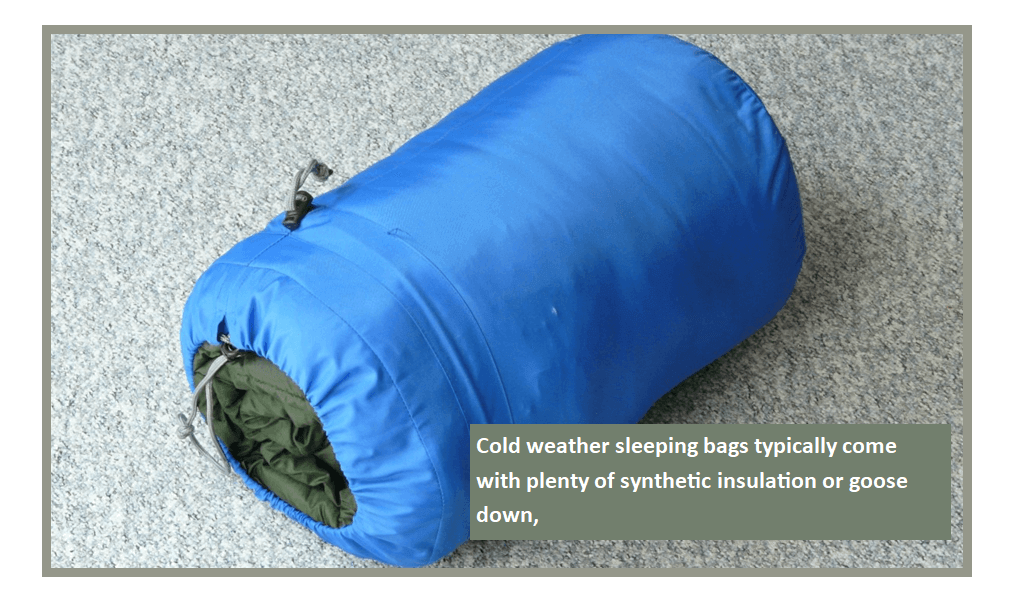 A good night's sleep is critical for your happiness and health, whether you are camping during the winter or summer seasons. You do not want to be freezing in your tent throughout the night in the wilderness.
To avoid sleep challenges during your winter backpacking trip choose the right sleeping bag for your anticipated conditions. Ensure your base layer clothing is dry before jumping inside your sleeping bag.
If your feet tend to get unusually cold, consider wearing warm socks as well. The suitable sleeping bag should be approximately 10 degrees colder than the expected low temperatures. If you are afraid of suffering frostbite, then carry a sleeping bag liner and extra warm clothing.
Many of the winter-appropriate bags available today are hooded. You can also purchase down hoods if your sleeping bag comes without a hood. You can also choose a quilt instead.
· Sleeping Pad
A sleeping pad provides hikers with sufficient cushioning and insulation. Here are some tips to help you choose the right sleeping pad for your winter camping trip.
Have Two Sleeping Pads
If you are camping at sub-zero degrees, consider using two sleeping pads. Ensure they are full-length to ensure you do not lose body heat on snow-cold surfaces. A closed-cell foam pad is ideal for use next to the ground, while a self-inflating sleeping pad comes in handy on the top. The foam pad will keep you warm if the self-inflating pad is punctured.
Consider the R-Value
Sleeping pads come with an R-value rating, the insulation measurement that ranges between 1.0 and 8.0. A sleeping bag that comes with a higher R-value offers better insulation. All-season and winter designed sleeping pads come with an R-value of approximately 4.0 or even higher.
· Navigation
While you may want to carry a digital GPS navigation device, it is worth mentioning that cold temperatures drain batteries fast. Lithium batteries, however, are ideal in cold weather. Instead of relying on your phone for navigation during your winter hikes, opt for a paper map. Carry a compass and familiarize yourself with how it operates. Pack a personal location gadget that facilitates fast location identification and rescue in the event of an emergency.
· Cooking System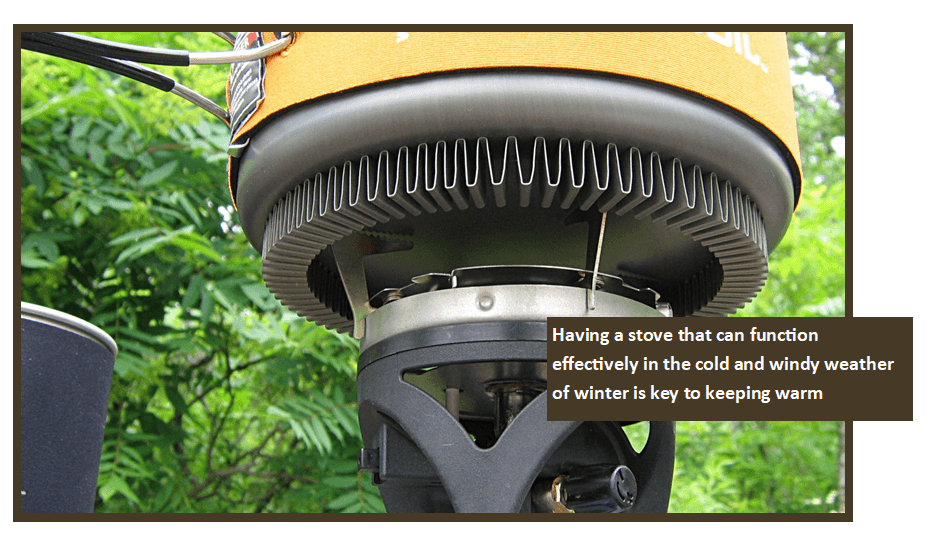 Having the right cooking stove is crucial during winter conditions. Remember, some fuels and stoves perform better at high elevations in cold temperatures than others. White gas stoves would be ideal for your winter backpacking trip.
Apart from burning clean and hot, they perform better in sub-zero temperatures. They are heavier and feature slower boil times. Priming is ideal when using these stoves. Heat times during winter are often longer, and to be on the safe side, you need to carry extra fuel. Canister stoves and butane systems are poor performers during winter. Avoid them where possible.
Little but Crucial Items
Forgetting small things when packing for a trip is easy. Here is a list to help you include everything you need for your winter backpacking trip in your package.
Headlamp
Additional headlamp batteries
Lip balm to help relieve chapped lips
Sunscreen is necessary even when you are hiking in winter
Ice traction gadgets such as spikes and crampons
sunglasses
Tall gaiters to prevent snow from settling on the top part of your winter boots
A fire starting kit as well as a backup kit
Credit card
Some cash
Cross-country skis and snowshoes
An emergency blanket
Disposable shower caps
Sufficient Calories
Eating is crucial during a winter backpacking trip as it helps keep you warm during your winter hikes. When you eat food, your body will generate heat during the digestion process. Remember, your metabolism levels will be high during winter as your body attempts to keep you warm.
Increased metabolism translates to calorie burning, which is why you should eat more. However, consuming calories only will not keep you sufficiently warm. You should also drink enough water to keep you hydrated because hydration facilitates proper food digestion. Prepare your high-calorie meals in advance and eat regularly.
Butter is a critical component that you should integrate into all your meals, including your coffee and hot chocolate. Many hikers prefer to eat their lunch on the go, and they also snack often. Carry foods that you can consume easily without removing your gloves, such as nuts, nutrition bars, and trail mixes. Do not carry meals that solidify or freeze like peanut butter and fresh fruit.
How to Prevent Injuries during a Winter Backpacking Trip
Hypothermia and frostbite are some of the main concerns when it comes to winter camping. You can prevent these winter conditions by taking care of yourself and your hiking team in the following ways.
· Remain Warm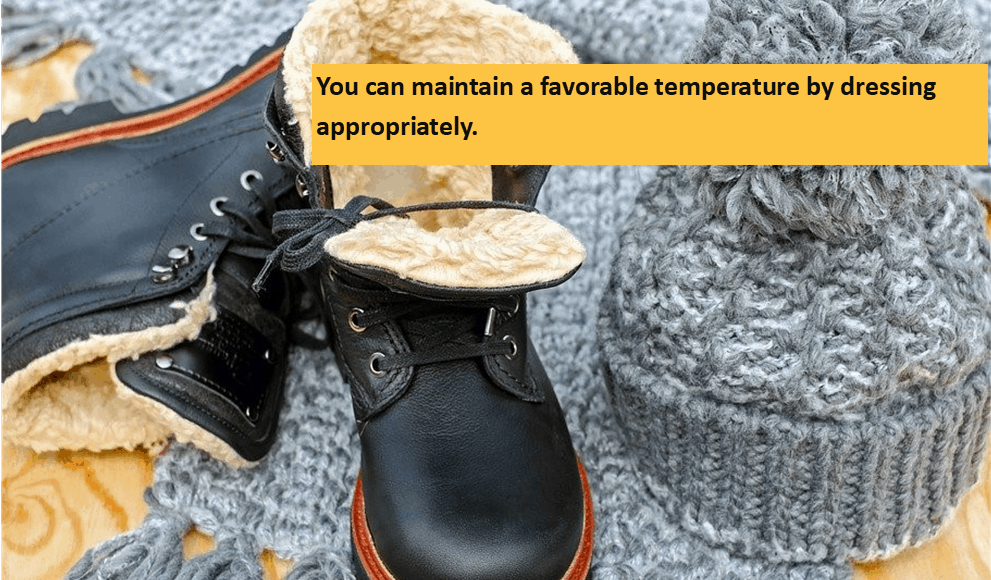 You can maintain a favorable temperature by dressing appropriately. Doing so is much easier than attempting to get warm after a bout of cold.
· Be Alert
If you notice that your toes or fingers are getting cold, stop what you are doing, examine them, and look for ways to warm them up. Sandwiching your cold fingers between your armpits is an excellent method of warming them up. Apart from wearing warm and dry socks, consider placing your cold toes against your partner's belly. Where possible, use toe or hand warmer packets.
· Monitor Your Fellow Winter Hikers
Talk to your colleagues and find out how they feel. If you notice unusual symptoms such as pale spots or a feeling of clumsiness along the trail, take immediate action. Cover any exposed skin and make them wear an additional layer of warm and dry clothing.
Finally
While the winter season can be dull, camping trips are adventurous and fun. However, you need to take the necessary precautions and dress appropriately to keep warm and avoid injuries. These winter backpacking tips should help you get started with ease. Visit our blog now for more details on winter camping.