If you are a camping enthusiast, then a sleeping bag for cold weather will come in handy. With the number of campers increasing by the day, there has been an influx of camping essentials in the market. Are you struggling to find the right cold-weather sleeping bag? Here is what you should consider before making a purchase.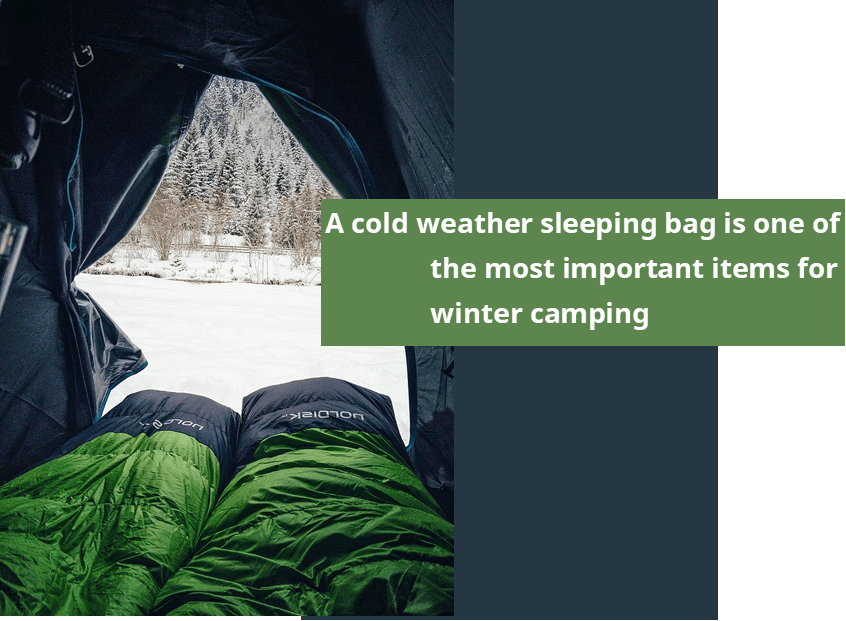 Temperature Ratings
Temperature ratings indicate the coldest condition that you can be comfortable in the sleeping bag. These ratings are crucial, especially if you are going for your first winter camping trip. For instance, assuming the comfort level of your sleeping bag is 20 degrees. You will be able to sleep well at 20 or more degrees.
Apart from wearing warm clothing, use an excellent quality sleeping pad beneath. Remember, temperature ratings vary depending on your camping location. The sleeping bag you choose should come with EN standard certification and an EN13537 mark. These markings mean that the sleeping bag has gone through a thermal manikin test. This test is more authentic than an independent test done by the manufacturer. There are four standard temperature ratings to ensure you are comfortably warm. These are:
·       Upper Limit
Under this rating, a male should be able to sleep comfortably without sweating. They can even keep their arms outside the sleeping bag, and open both the zipper and hood.  
·       Lower Limit
Under this rating, a male should be able to sleep in a curled position for 8 hours uninterrupted.
·       Comfort
Under the comfort rating, a female should be able to sleep in a relaxed position comfortably. 
·       Extreme
This rating defines the minimum temperature that a female can sleep for up to 6 hours without risking hypothermia.
It is worth mentioning that sleeping bags that feature an EN standard tag are more costly. Further, no level of testing can be wholly perfect for you because different people feel cold differently. Consider layering your clothes and only take off the layers one after the other if you feel too hot. You can also pile up the layers if the temperatures drop and zip up your sleeping bag. 
Insulation Material
Sleeping bags are made of different types of insulation material, and each comes with pros and cons. Some of the commonly used insulation materials include:
·       Synthetic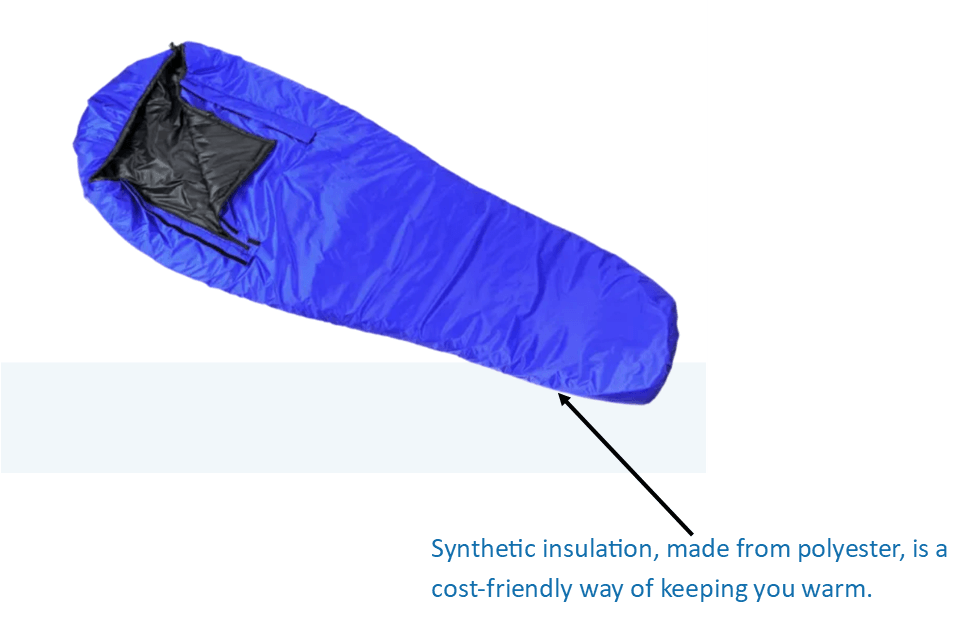 Synthetic insulation, made from polyester, is a cost-friendly way of keeping you warm. Sleeping bags for cold weather made with synthetic insulation operate well even during damp weather. They are also hypoallergenic and durable. However, transporting synthetic-insulated sleeping bags can be difficult because they are bulky and hard to pack down inside their storage sack.  
·       Goose-Down
While goose down sleeping bags can be pricey, many campers prefer them because they are durable and warmer than synthetic sleeping bags. You can compress them to form a small pack. However, they lose their insulating capability once they get wet. 
·       Water-Resistant Down
Water-resistant down sleeping bags are treated to shield the feathers from moisture. These sleeping bags are some of the most expensive options available. However, they are portable and remain warm even when they become damp. 
·       Zippers
The sleeping bag you choose should be easy to unzip because you will be entering and exiting it often. Opt for sleeping bags that come with long length zippers that open on both sides. These offer more flexibility and ventilation.
Some cold weather sleeping bags come with short zipper lengths that make them ultralight. However, sleeping in them could make you feel constricted and uncomfortable. Avoid metal zippers because they can be unreliable, delicate, and heavy.
Plastic and nylon zippers are ideal when it comes to their length, quality, and ability to adapt to varying weather conditions. Slider zippers, on the other hand, come with non-locking and double pulls features. You can open them both from the external and internal parts and this makes the sleeping bag easily accessible.
·       Zipperless Sleeping Bags for Cold Weather
Today, some of the lightest sleeping bags are zipperless, which makes them easy to open and close. Apart from adding weight to your sleeping bag, zippers become worn out over time. If you opt for a zipperless sleeping bag, ensure it features a draft tube.  
The Fit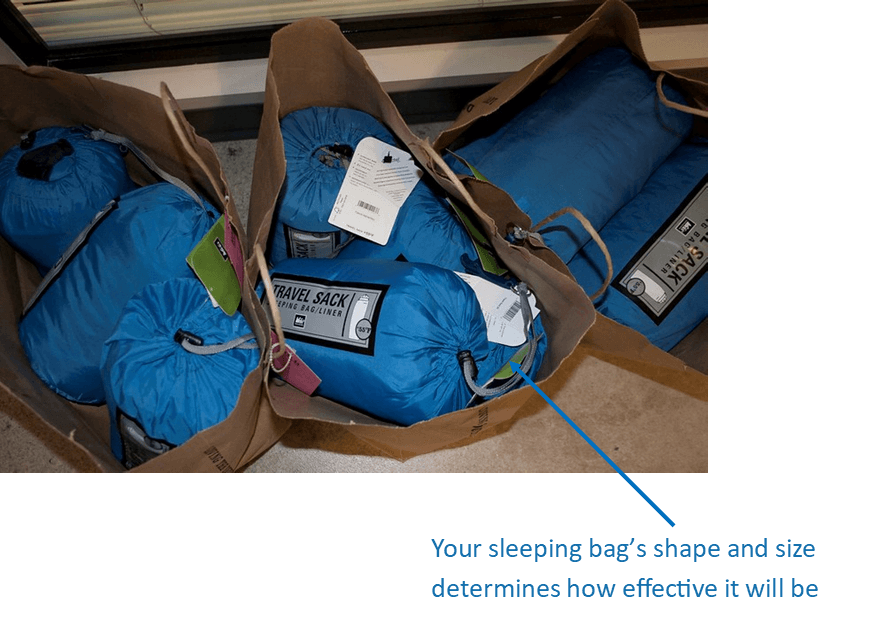 Your sleeping bag's shape and size determines how effective it will be. The right sleeping bag should be form-fitting. If it is too big, then it will not insulate you appropriately. Again, you do not want a small sleeping bag.
Apart from making you feel uncomfortable, it will be a snag for the perfect warmth. Sleeping bags come in various shapes, with the most common being rectangular and mummy. A rectangular sleeping bag is ideal for regular weather patterns. Mummy bags, on the other hand, shield you from the heat during overly cold temperatures.
Many sleeping bags for cold weather come in the mummy shape. Rectangular bags offer more room to move around, but mummy bags give you better insulation. The enhanced insulation prevents heat loss through the head.
Many mummy sleeping bags for cold weather also feature drawstrings around the hood. Be on the lookout for other features like neck mufflers or draft collars and face mufflers. These features help protect your head and neck from the cold. 
Spacious Interior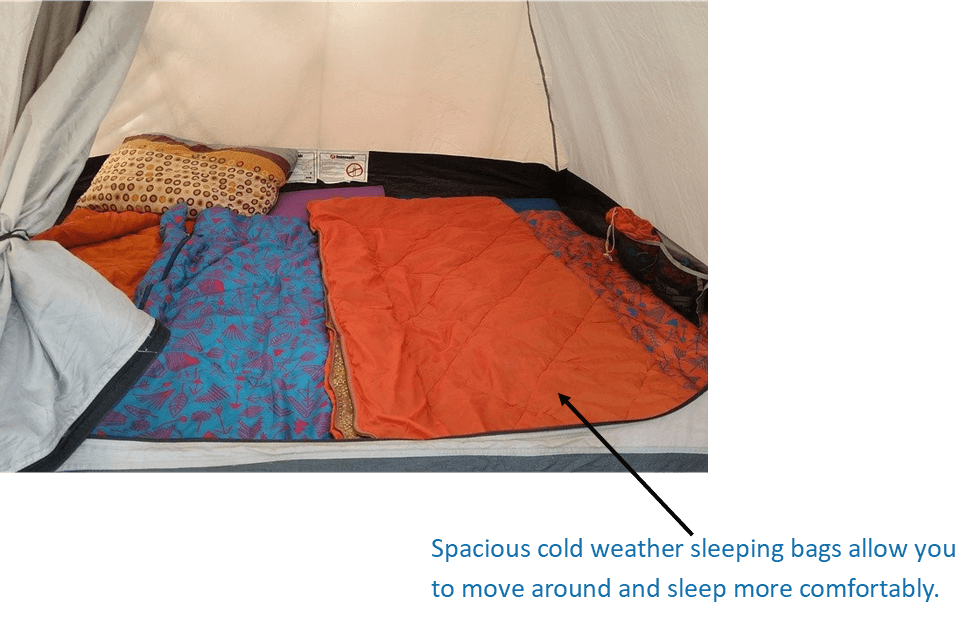 While a figure-hugging sleeping bag is warmer, it reduces air space over your body. Spacious cold weather sleeping bags, on the other hand, allow you to move around and sleep more comfortably. However, you will need sufficient body heat to fill your space up. Here are some measurement factors you should understand when choosing a sleeping bag. 
·       Length
Choose the shortest length that fits your frame well and keeps your feet comfortable without being pressed when you wear your hood. Ensure your cold-weather sleeping bag has some room at the bottom area. You can use it (the extra room) as a storage space for your hiking clothes or shoes. 
·       Hip Measurement
Many male sleeping bags measure approximately 58 inches around the hip, while female ones can measure up to 60 inches. Try on different sleeping bag sizes to identify the best that meets your needs. 
·       Shoulder Girth 
Many sleeping bags come with a shoulder-length that varies between 60 and 64 inches. Cramped sleeping bags come with a 58-inch shoulder length. Female sleeping bags, on the other hand, come with a confined shoulder length that varies between 56 to 60 inches. Remember, 0ne inch makes a big difference in terms of snug level. The ideal way of determining the right size is to try various sleeping bag sizes. 
Getting the Best out of Your Sleeping Bag
After purchasing your sleeping bag, you want to do everything possible to get the best out of it. Avoid placing your sleeping bag on the ground. Always use a sleeping pad to protect your cold-weather sleeping bag, and keep it warm. You can warm your sleeping bag during the day by placing it under direct sun. You can also keep it close to the campfire in the evening.
If you are going camping during extreme winter conditions, use a hot water bottle. Doing so helps you get enough warmth and sleep comfortably. Take excellent care of your sleeping bag if you plan to use it for many years.
 Keep it uncompressed in a dry place to protect the filling from getting bundled up and crushing. Clean your sleeping bag and dry it thoroughly after every use, especially if it gets dirty or wet during your camping trip. 
What are some of the Best Sleeping Bags for Cold Weather? 
Here are some of the high-quality sleeping bags you can choose.
·       REI Co-op Igneo 17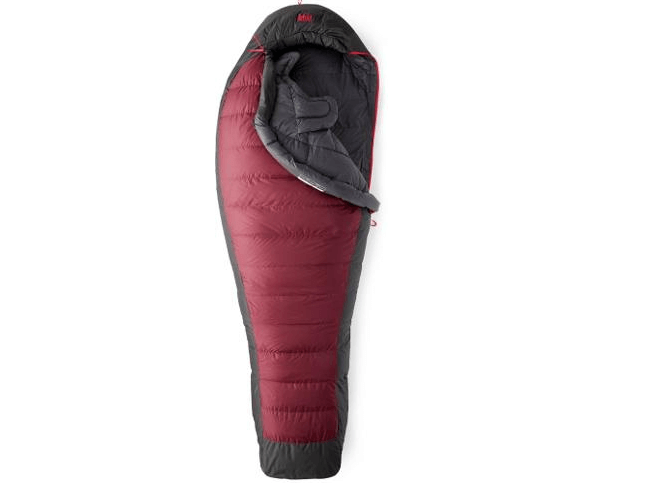 The Co-op Igneo 17 from REI is an ultralight, mummy-shaped, and water repellent power down sleeping bag that comes with a breathable fabric. These features make it ideal for wet weather conditions. It is perfect for 3-season use, and it gives you superior warmth and loft. It also features a Ripstop nylon shell.
Co-op Igneo 17 comes with a somewhat angular contoured hood and an excellent and warm headspace. This sleeping bag for cold weather also features a total-length draft tube that keeps you warm. 
·       NEMO Disco
Nemo Disco is one of the most comfortable mummy-shaped sleeping bags. It comes with extra room along the knees and shoulders to allow side sleepers more comfort and mobility. Nemo Disco has an integrated zippered stuff sack and pillow sleeve. It also has a blanket fold that shields your face and neck from cold drafts. This cold weather sleeping bag features two zippered gills along the body.
During warm weather, users do not have to unzip the main zipper. All they should do is unzip the gills to help control the temperature inside the sleeping bag. Nemo Disco is available in 30F and 15F temperature ratings, and you will enjoy a lifetime warranty. This sleeping bag comes with a hydrophobic 800-fill power goose down insulation to help you sleep comfortably even at 0°F (-18°C). 
·       Teton Sports Mummy Zero Degree Sleeping Bag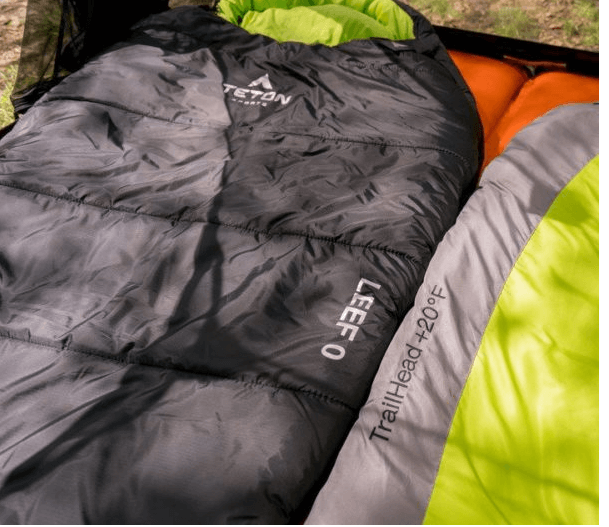 This mummy-shaped sleeping bag is ideal when it comes to locking in heat in cold regions. It comes with an insulated foot box that keeps your feet warm and comfortable while sleeping. The Teton sports mummy zero degrees sleeping bag features a three-piece hood to keep your face, neck, and head warm. If you tend to feel very cold, then this Teton sleeping bag should be on your bucket list. 
·       Kelty Cosmic 0 Degree Sleeping Bag
If you are looking for a cost-friendly sleeping bag, the Kelty Cosmic 0 degree option would be ideal. This sleeping bag is water-resistant and designed to keep you comfortably toasty. Just as the North Face Inferno option, you can purchase this sleeping bag from Amazon. While some backpackers find the Kelty Cosmic 0 degree sleeping bag heavy, you can carry it around with ease. It is ideal for you if you love backcountry car camping. 
·       Kammok Thylacine Sleeping Bag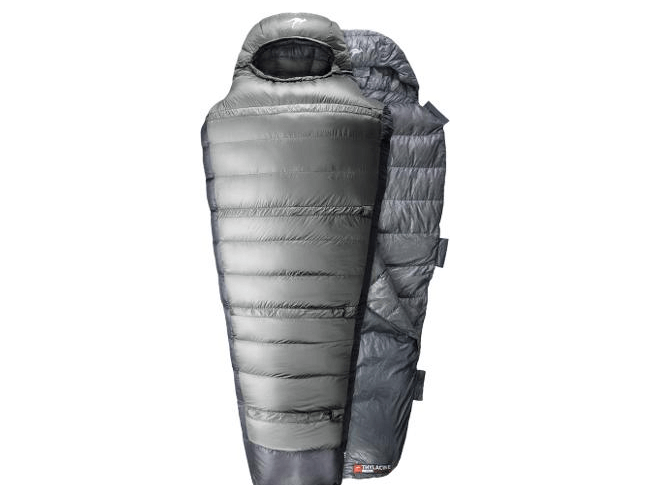 Kammok Thylacine sleeping bag is one of the best cold weather camping sleeping bags. It is zero degrees rated, and you can adjust your desired warmth level. All you need to do is pull the custom-fitted straps that cinch the sleeping bag close to your body. Doing so helps prevent movement of cold air inside the bag. 
·       Marmot Trestles 0 Sleeping Bag
The Marmot Trestles 0 Sleeping Bag is a budget-friendly backpacking option that is ideal for use in overly cold spots. It comes with a two-way full-length zip on one side. It also features an additional zip on the opposite side, allowing you to fold its top part whenever it gets too hot. This sleeping bag has easy to feel draw cords. You can easily cinch down the sleeping bag and zip it up even in the dark. 
·       Mountain Hardwear Phantom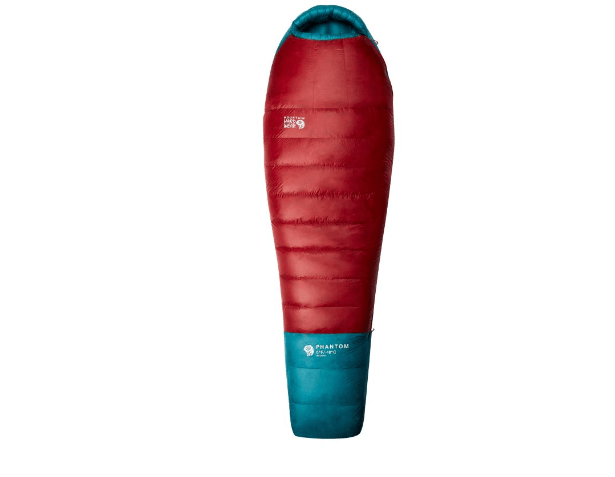 While the Mountain Hardwear phantom bag is all rounded, it is more expensive compared to the Western Mountaineering option. It features four chambers in the hood to keep you comfortably warm during the night. It also has a draft collar that prevents warm air from escaping from various parts of the bag. It is ultralight and portable.
This cold weather sleeping bag is made using recycled 10D components, which enhance its durability. The Mountain Hardwear Phantom sleeping bag comes with vertical baffles, which make it easy to compress. It also comes with a compression sack that campers can use to store the bag appropriately without causing damages. 
You can have a Blissful Winter Camping Night with the Right Sleeping Bag
Do you love camping? Having the right sleeping bag for cold weather is crucial if you are looking for the best experience in the woods. With many sleeping bag options available today, choosing one that best meets your needs can be difficult. However, you can leverage this article to help you make an informed decision.  Book your winter camping trip now and enjoy some of the best activities in Switzerland.