Going on a winter camping trip is a great alternative to getting cooped up indoors. It offers great opportunities for fun and adventure — even for entire families. And if you prefer the peace and quiet of solitude, it provides the perfect getaway from the chaos of modern life.
However, since you will be in the backcountry in extremely cold weather, and possibly treacherous terrain, you will need the right winter camping gear in order to ensure that you are both safe and comfortable. Here is a camping checklist that will come in handy in helping to keep you safe and warm.
Cold Weather Clothing and Other Accessories for Warmth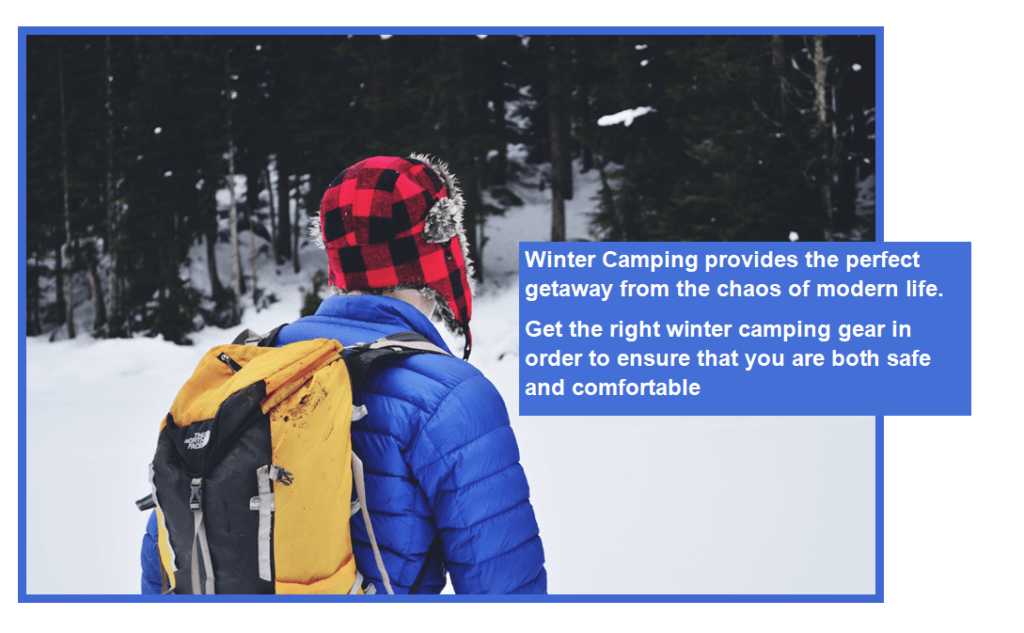 The main aim of your clothing, or any other accessories that you put on, should be to keep your body from losing heat. They should also be good enough to keep you from getting wet. Any clothing or accessory that has insulation and that wicks your sweat away will also go a long way towards ensuring that you are both warm and comfortable. With this in mind, here is what you should have with you when going on a backcountry camping trip.
For Your Face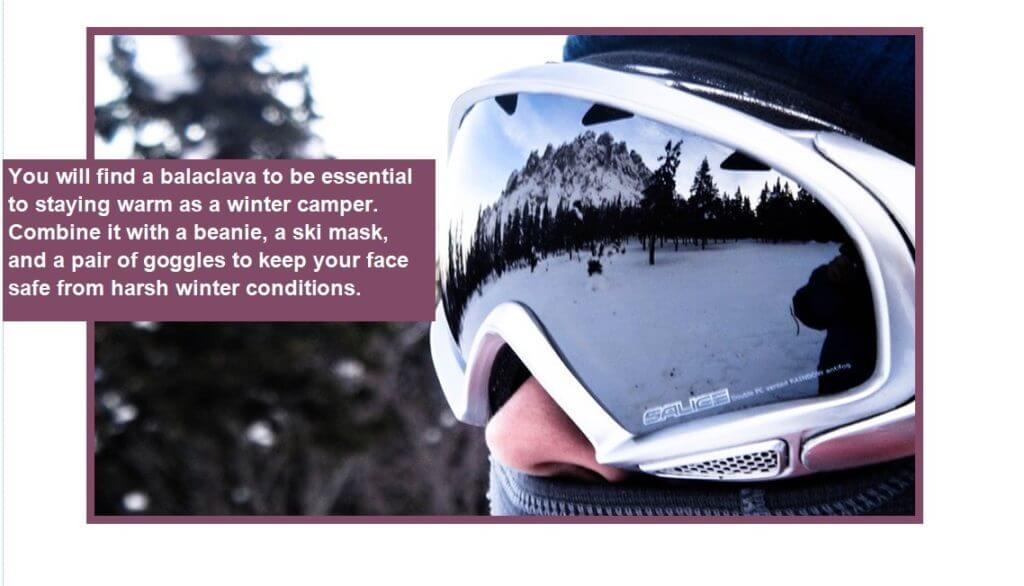 Extreme winters typically feature strong winds and cold. These elements can not only be irritating to your eyes, but also bad for your skin. Exposing your face will also accelerate the rate at which you lose body heat.
Therefore, as a winter camper, you will find a balaclava to be essential to staying warm. When you combine it with a beanie, a ski mask, and a pair of goggles, keeping your face safe from harsh winter conditions won't be a challenge for you.
When choosing a balaclava, neck gaiter, beanie, or any other covering, you should always make sure that it is comfortable and that it is made of breathable material. Since it will be directly in contact with your skin, moisture-wicking ability is also something that you should consider.
As far as the glasses or goggles are concerned, what you should be looking for is the visible light transmission rating. For winter camping, glasses and goggles that have a visible light transmission that is below 19% are ideal. However, if it is cloudy, you may have to use ones that have visible light transmissions of up to 40%.
For Your Hands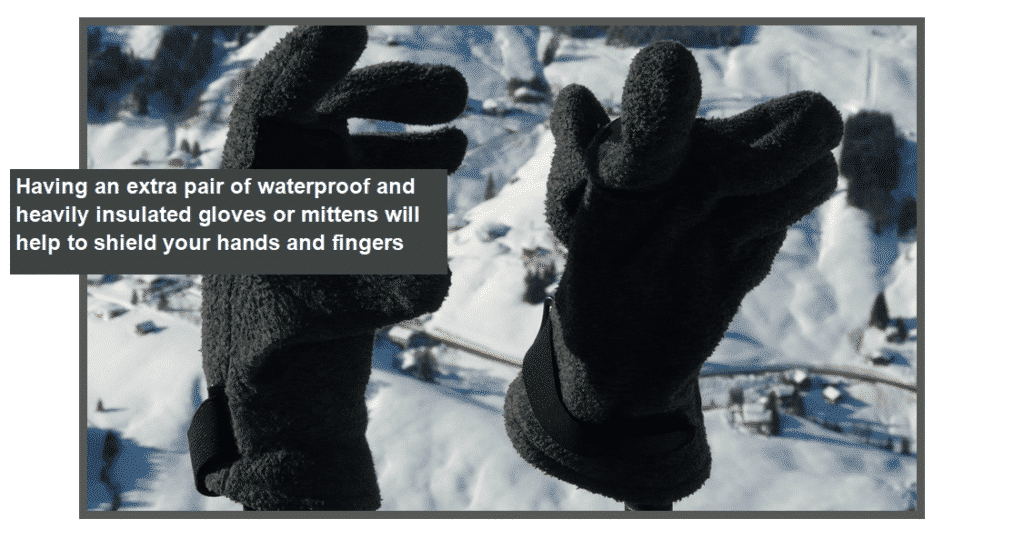 As far as your hands are concerned, gloves and mittens will offer the main protection against frostbite and other negative effects of cold weather. Having an extra pair of waterproof and heavily insulated gloves or mittens will help to shield your hands and fingers. And if you get cold, having a packet of toe hand warmers will come in handy in restoring your heat.
For Your Feet
Pairing your winter boots with thick wool socks or synthetic socks is a great way to guarantee comfort and warmth. If you have to move around in the snow, using good gaiters will come in handy in protecting your boots from snow invasion. It will also contribute to keeping your feet warm.
For the Rest of Your Body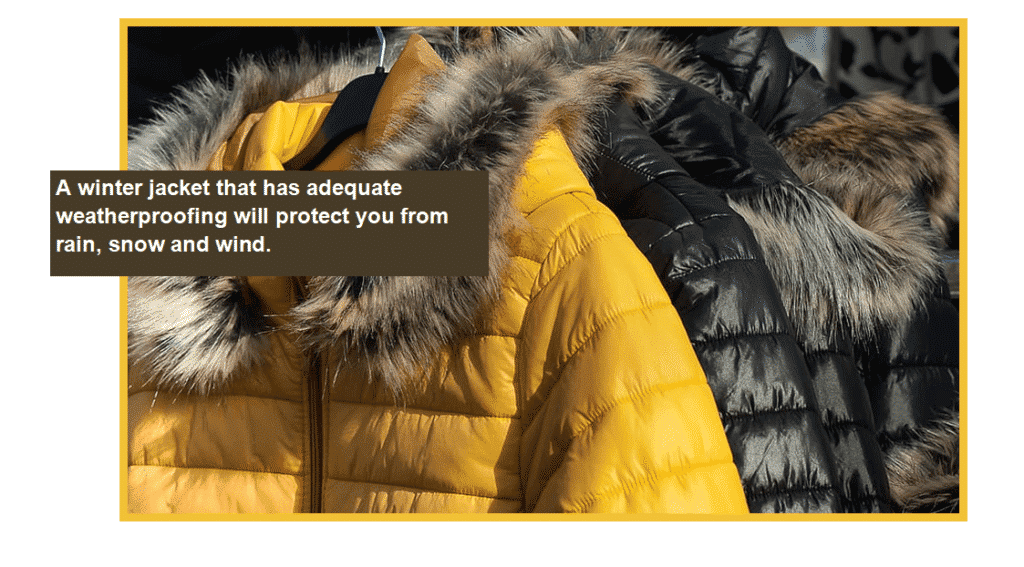 Generally, you will need clothing that traps heat, keeps you from losing that heat, and also protects you from rain, snow, and other elements. You will achieve this by layering your clothing.
The base layer
This is the layer that comes in contact with your skin. It is supposed to be comfortable and hugging. It should also have a wicking ability that allows it to drain sweat away from your skin in order to keep you dry and comfortable. As a result, when layering, you should stay away from cotton clothing since cotton is very poor at wicking sweat away. It will keep you wet, and this can cause you to lose heat faster. Clothing made of propylene is a common choice that is affordable.
The middle layer
The middle layer is what insulates your body from the outside world. A merino wool sweater, fleece, or down jacket are all great insulating layer options.
The outer layer
An important factor to consider when choosing the outer layer is whether it is water-resistant. This layer should be able to effectively protect you from rain, snow, and wind. For this layer, opting for a hardshell jacket that has adequate weatherproofing won't disappoint.
Winter Camping Checklist for Shelter
A 4-Season Winter Tent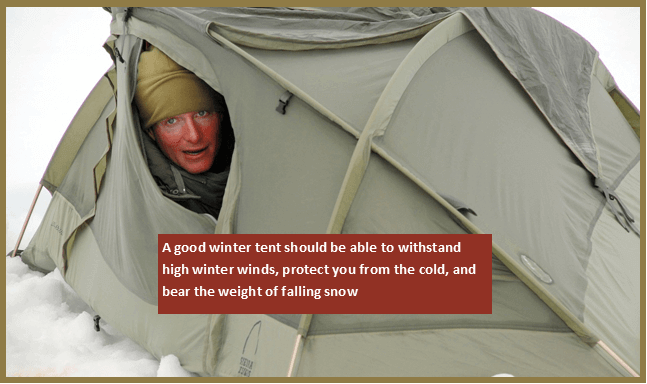 A good winter tent should be able to withstand high winter winds, protect you from the cold, and bear the weight of falling snow. 4-season tents are well-equipped to handle typical harsh winter conditions and are thus the best choice as far as winter tents go.
When choosing the size of your tent, it is always advisable that you choose one that is spacious enough to fit all your gear. A tent with a spacious vestibule is also ideal as it will offer extra storage space. However, do not go for a tent that is too large as it may lead to a lot of cold spots in your tent, and this can make getting warm difficult. A larger-than-needed tent will also make transportation more challenging than it needs to be.
Snow Stakes
Unlike camping during summer, winter camping requires the use of special stakes during the tent setup process. This is mainly because of the strong winds that are common during winter. Snow stakes are stakes that are specially designed for use in snow and are generally strong enough to provide tents the support they need to withstand high winds and heavy snow.
Camping Checklist for Tools
Packing down the snow at your camping site is the first step in creating a good foundation. Doing so helps to keep the ground from melting easily. The good news is that you don't need much in order to get stable ground that is less likely to melt. For this step, all you need is to stomp the snow at the site with your snowshoes. Hiking boots and skis can also get the job done.
Carrying a snow shovel will make the packing work easier. Also, if you need to create more storage space in your vestibule, you can use the shovel to dig into the snow in order to create sufficient storage for your gear.
Winter Camping Checklist for Comfortable Sleeping
Sleeping Pad
One of the fastest ways to lose body heat is to come in contact with the frozen ground. A sleeping pad has enough insulation to act as a buffer between your body and the ground and hence it limits the odds of extreme body heat loss. Furthermore, it also creates a more-comfortable platform for you to sleep on. Therefore, a sleeping pad is a must-have accessory if you want to not only feel warm but also comfortable.
However, it is important to keep in mind that not every sleeping pad can handle harsh winter conditions. To be on the safe side, you should always go for pads that have an R-Value that is more than 4. The higher the R-value of the pad, the better the protection that it will offer against the freezing ground. Also, while a single sleeping pad is usually enough to provide the necessary insulation, you can get even more protection when you combine a self-inflating pad with a closed-cell foam pad.
Sleeping Bag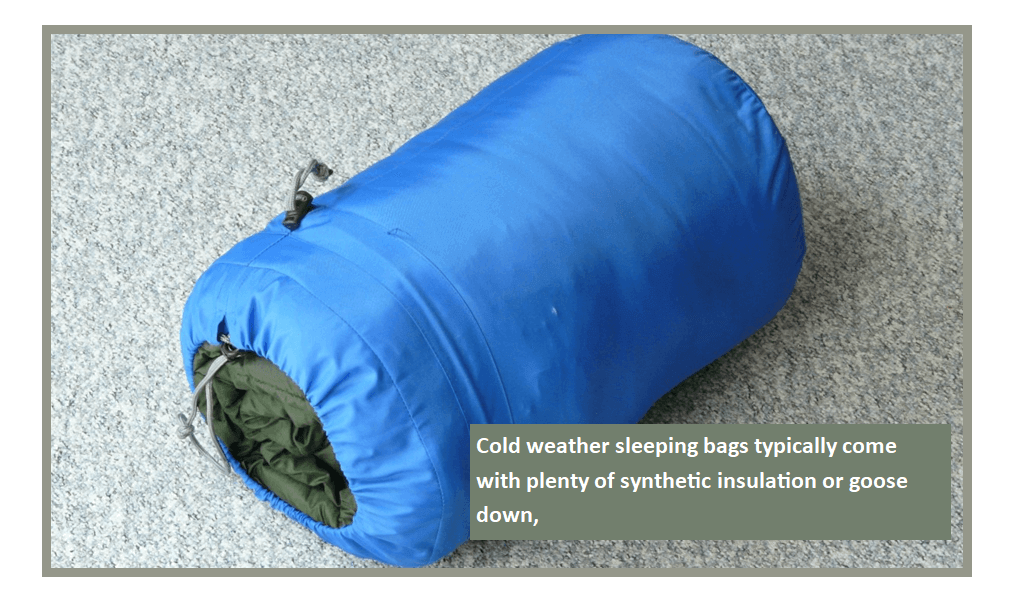 With a sleeping pad setting out a comfortable and weather-proof foundation against the cold ground, you will then need something to trap your body heat and keep you comfortable and insulated against the environment. Cold weather sleeping bags typically come with plenty of synthetic insulation or goose down, and this gives them an enhanced ability to keep you warm when sleeping. They also have draft collars and zippers that allow them to provide superior heat-trapping capabilities.
Therefore, if you want to sleep comfortably, make sure that you carry a good sleeping bag. Also, make sure that it has the ideal rating to deal with harsh winter conditions.
Sleeping Bag Liner
Some winter campers use sleeping bag liners to protect their sleeping bags from getting dirty or from getting worn out. However, these camping accessories can come in handy in helping to boost the sleeping bag's ability to keep a camper warm. As a result, having them on hand can help in situations where your sleeping bag isn't providing as much warmth as expected.
Winter Camping Gear for Backcountry Snow Travel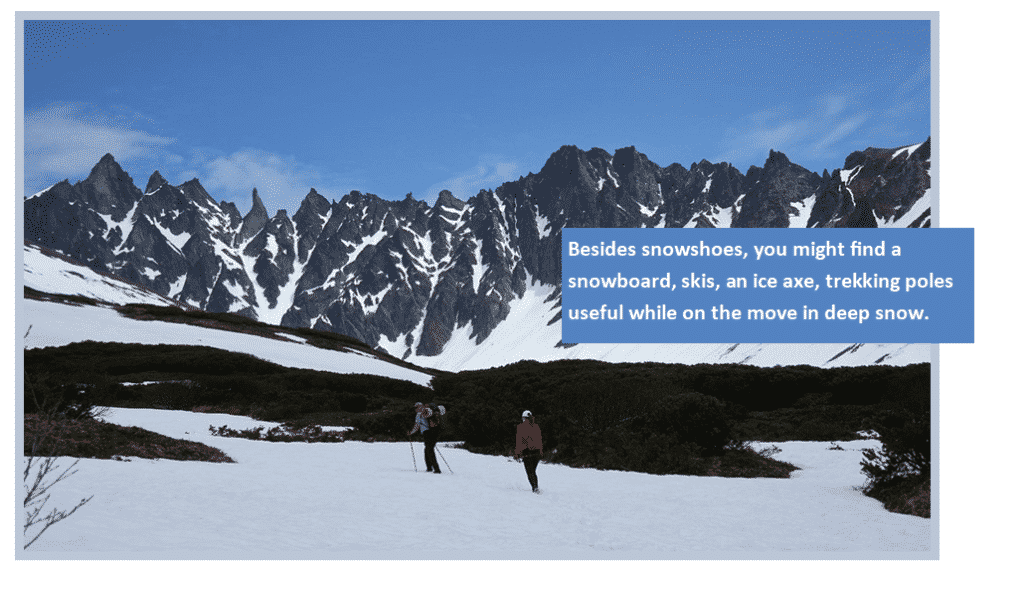 Moving on Snow
Good waterproof hiking boots are usually enough to allow you to get around in cases where there are shallow levels of snow. However, if the snow levels start to build up, you will need snowshoes. Other gear that may make it easier for you to move around include a snowboard and skis. An ice axe, crampons, and trekking poles will also make your work easier. The only thing that you should keep in mind is that if you choose to ski or snowboard, you will have to wear the appropriate gear in order to move safely and comfortably.
In most cases, if you are going on a hike, a water-proof backpack with adequate insulation will be enough to carry all that you need. However, if you are going trekking on a long journey and you need to carry more things, a sled will be useful as you won't have to carry it on your back.
Navigation
If you are going to go snowshoeing or mountaineering in the backcountry, you need to have the tools that can help you to find your way back to your winter camping site. Since there are chances you may find yourself away from your camp after the sun sets, having a lightweight headlamp will come in handy helping you to find your way. And to avoid getting stranded in the dark, carrying a few extra batteries for the lamp is always a good idea.
A map, a reliable compass, a watch, and a good GPS system will also come in handy in helping you find your way around. Another thing that can help is a guidebook that describes landmarks and the general area that you are exploring. As for the maps, guidebooks, and any other items that can get wet, you can protect them with a waterproof sleeve or an airtight plastic bag.
Sun protection
Just because it is winter does not mean that you don't need protection from the sun. This is so especially when you consider the fact that snow reflects the sun. Therefore, when going on a cold-weather camping trip, it is always a good idea to arm yourself with enough sun protection.
As a result, you should carry a sun hat, a healthy supply of sunscreen, and sunglasses. If you can get your hands on SFP-rated lip balm, your lips will thank you.
Food and Water
Winter campers typically need to cook their meals to ensure that their bodies get the right amount of nutrients needed to keep warm. For most of them, heating up snow is an easy and reliable way to get access to drinking water. And having a stove that can reliably heat up their meals and which is compact and lightweight enough for backpacking, is something that they prioritize.
Camping Gear for Cooking and Boiling Water
Stove
What you need in a stove is something that is effective, compact, and can work in cold weather conditions. You will basically have two options to choose from. You can choose canister stoves or liquid-fuel stoves.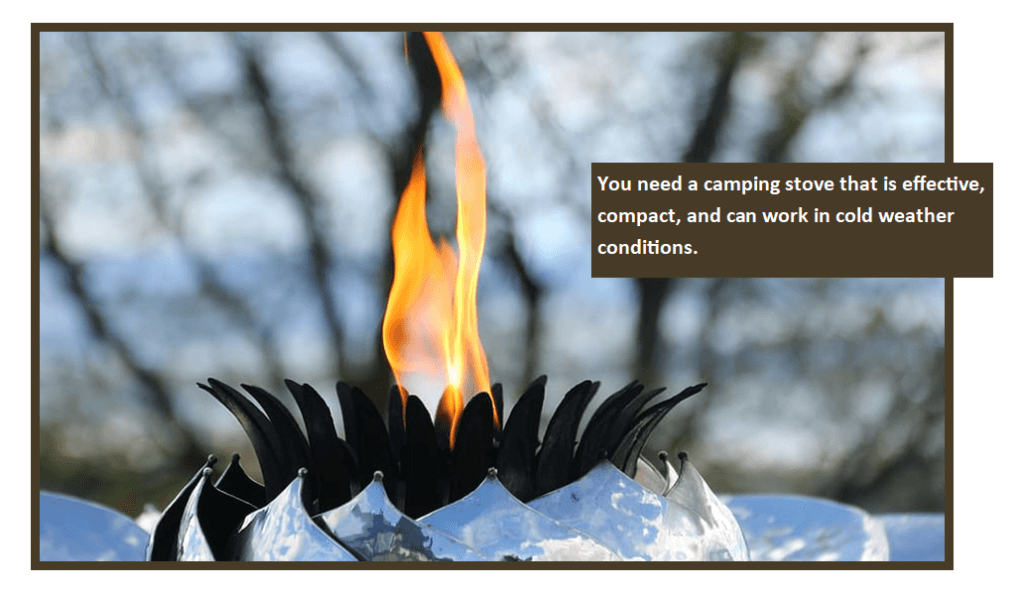 While liquid fuel stoves offer better performance in freezing winter conditions, they are a generally slower and heavier alternative. Therefore, a canister stove is usually recommended because of its compactness, faster boiling speed, and weight.
Furthermore, even though it tends to be problematic due to cold weather depressurization, this is a shortcoming that you can overcome by placing it in your sleeping bag when you are sleeping, or even keeping it in your jacket pocket. Wrapping the canister during use will also reduce the depressurization problem. And since there are canister stoves with built-in pressure regulators, you can still get great cold weather performance from these stoves.
Make sure that you carry an extra stove, just in case the main one fails to work. Packing extra fuel — more than you think you will need — whether it is white gas, kerosene, canisters, or gasoline, is always a great idea.
Cooking platform
When you use your stove on the snow, the snow will start to melt off. This will create an uneven cooking platform. In such a case, a cooking platform will come in handy. You can get one from a camping store, or you can create one by simply using a foam square that is insulated with aluminum foil. A piece of plywood will also do.
Additional items
Other additional items that you will need in order to prepare your food include fire starters or waterproof matchsticks, water filters, a mug, a cup, a spork, and a pot. You shouldn't also forget to carry a dishcloth for washing your dishes, soap, and a plate.
Food
During winter, your body works extra hard to keep you warm. As a result, packing a generous amount of nutrition-dense healthy foods is necessary for staying warm and energized. Having a few snacks with you will also come in handy in giving your body a quick boost of energy when you don't have an appetite or when you are simply not in the mood to prepare food. Hot beverages like cocoa and soups are also come in handy. Generally, you should always go for food that is easy and convenient to prepare.
Packing an Extra Water Bottle and Other Camping Tips
You should always pack an extra water bottle because there are different ways that you can use one. For example, instead of waking up in the middle of the night to do jumping jacks, you can simply use a water bottle to keep you warm. All you need to do is to fill up a plastic bottle with hot water, and then throw it inside the sleeping bag at night. If it gets too hot, you can wrap it. Having an insulated sleeve specifically for your water bottle will also help to reduce the rate at which it loses heat.
Also, if it is too cold outside and you don't have a pee bottle with you, the water bottle can be a great alternative. In such a case, you are a woman, having a pee funnel could come in handy.
Another tip that you will find useful during your campout is to keep any clothing that you intend to use the next day in your sleeping bag, or at least next to you. When you do so, you will keep them from getting too cold because of your body heat. You can also make your boots more comfortable to wear the next day by throwing their liners inside your sleeping bag for extra warmth.
Since accidents can happen when backpacking, you should always carry a well-stocked first aid kit. This, in addition to wearing safety gear like helmets when engaging in winter outdoor activities, could save your life in case something goes wrong.
Just because you are going away into the wild doesn't mean that you should forget to pack personal hygiene essentials. Toothpaste, a toothbrush, a trash bag, hand sanitizers, towels, toilet paper, and sealable plastic bags are just but a few of the personal hygiene items that you should never forget to carry.