Many school children look forward to summer. During this time, schools are closed which means students can spend more time with their peers within a less controlled environment. Further, this is the right moment for kids to sample a summer camp programme depending on their preferences.
Switzerland is one of the most beautiful countries that children from the UK can visit during their summer break. In this article we shall discuss:
Differences between the weather in the UK and that in Switzerland
Language differences in Switzerland and the UK, and
Fun summer camp programme activities in Switzerland for British nationals
What's the Climate Like in the UK as Compared to Switzerland?
Switzerland usually experiences moderate weather with no extreme humidity, cold, or heat. Temperature between July and August range from 18 to 28 °C. Temperatures between January and February range from -2 to 7 °C. Daytime temperatures in the country in spring and autumn range between 8 to 15 °C.
The climate in the UK on the other hand is temperate. This means the country experiences wet and cool winters and wet and warm summers. London, the capital city of England that lies in the south-eastern part of the UK experiences dry and warm summers and dry and cold winters.
Language Differences between the UK and Switzerland
English is generally spoken in most parts of the UK. Still, there are other native official languages such as Scots and Gaelic spoken in Switzerland, and Welsh spoken in wales.
In Switzerland however, there are four national languages. These are French, German, Romansh, and Italian. This information shouldn't worry you if you're planning to send your child to Switzerland for a summer camp programme.
While some summer camps are located in foreign language speaking regions, English is the official language. For instance, Verbier lies in the French-speaking region of Switzerland. This means that French is generally spoken in and out of the Les Elfes summer camp. However, considering that it's an international camp, English is the official language used here.
The best way to travel from the UK to Switzerland is by rail and the journey takes around 2 hours 15 minutes.
Exciting Activities that Kids from the UK will enjoy in Switzerland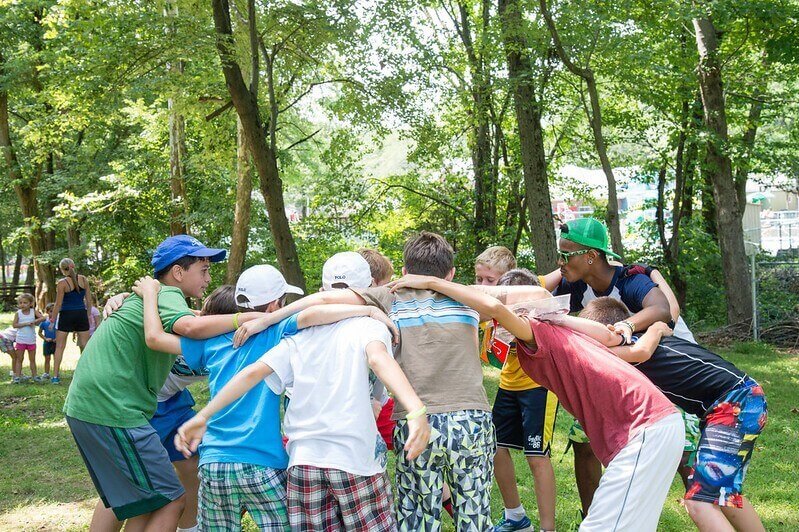 There's a designated summer camp programme in Switzerland that kids from the UK will enjoy. These activities are ideal for kids aged between 6 and 8 years. The programme is designed to last 14 days.
Campers will have a chance to participate in different activities, as well as learn and enhance their skills. The Les Elfes summer camp programme is structured to ensure that children from diverse backgrounds and cultures live together in harmony.
Further, this programme aims to cater to the developmental needs of young children. What does the programme entail? Let's discuss this below.
The General Camp Plan
This is an introductory programme where campers are familiarized with general camp activities, life, skills, and adventures. For many children, this is usually their first time being away from home. Some of them will be spending time with other kids from different parts of the world for the first time.
Counselors at the Les Elfes camp are tasked with guiding the kids to help them accept and understand each other. The Les Elfes summer camp programme exposes campers to various daytime fun activities such as swimming, land sports, and archery.
During the evening the campers participate in various exciting activities such as dancing, scavenger hunts, and talent shows. They also roast marshmallows over an open campfire as they share stories about their culture.
Canoeing and Hiking
This summer camp programme advances after the personal growth and skill mentorship programme offered at the general camp plan. Here, campers are encouraged to stick to guidance provided by their supervisors. They are also encouraged to embrace teamwork while exploring by boat or hiking.
This summer camp programme is designed to improve the camper's athletic, outdoor, and social skills. These activities are specially designed to help participants develop coping skills and self-confidence. There are designated community workers at the camp. They divide the children into smaller groups of 10 to maximize their experience.
Having the kids in small groups is a great way of having participants encourage each other to believe in their abilities. Campers who complete the canoeing and hiking summer camp programme display confidence and display anticipation to beat new challenges.
Leadership Training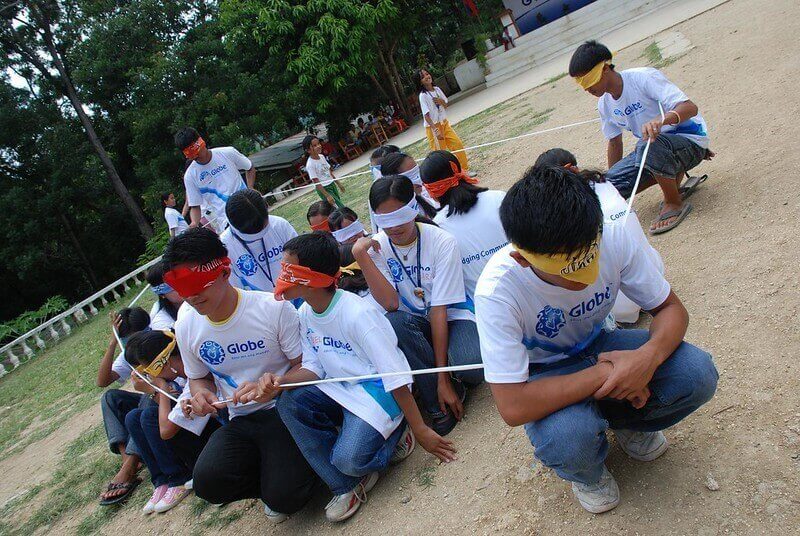 This is a summer camp programme that aims to expand a camper's skills, self-awareness, and knowledge. Participants are taken through progressive workshops and fun activities structured to help them make informed decisions about matters affecting their lives.
The programme covers safe and compelling communication, health and nutrition, drug awareness, and conflict resolution. Campers in the leadership summer camp programme are tasked with planning special events for young campers.
Training with Counselors
To participate in this programme, campers need to have completed the leadership training, and canoeing and hiking plan. The programme relies on skills gained in previous programmes to gauge a camper's ability. Counselors at the camp are tasked with providing a fun, safe, and refined environment for the campers.
Other activities that are part of this programme include:
Hanging Hoop Target
This summer camp programme activity is similar to the bean bag toss even though it's more advanced. Children of all skill levels can play hanging hoop target. It's also convenient and you can hang it outside on anything such as a ladder or even fence. You can also play the game with any object. These can be yarn balls or basketballs.
Just like a bean bag toss, players attempt to pass a ball through any of the three huge holes from a designated distance. Players earn a title such as "All-star" or points depending on the hole they pass the ball through.
Supervisors can change various elements of this activity such as the type of throw and distance. These make the game reusable and exciting.
Rubber and Beanbag Animals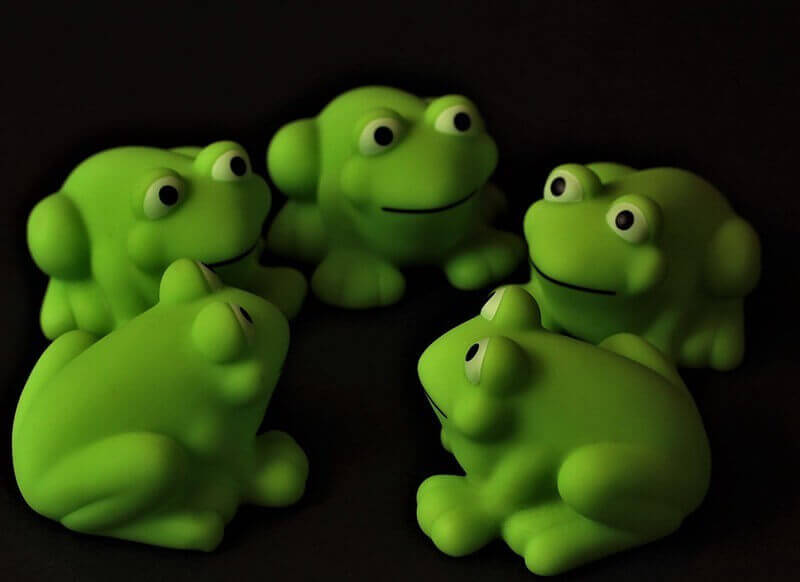 Beanbag animals can transform any activity from boring to fun and exciting. Animals fascinate children of different ages. A pack of rubber frogs or ducks can be all you need to bring back the fun.
Rubber chickens can be incorporated in a game and used for complex throwing and catching games. They can also be used as simple hot potatoes. To make this activity more fun supervisors at the camp can let the children name their animals accordingly.
Rubber and beanbag animals are cost-effective and you can purchase them in large quantities. This way, there will be enough animals for everyone.
Soccer Golf
Today, both adults and children love playing soccer. In this case, supervisors at the camp assume the part of a coach while the students become the players. The game is similar to mini-golf. However, students use soccer balls and exclusive flags and holes where the ball can rest in once they get inside the hole.
To play this game, children can be arranged in large teams or pairs with the hole being some distance away. You can use this concept for disc golf if the kids are interested. This is a fun outdoor activity that both adults and children can indulge in.
How is the Summer Camp Programme Schedule Like?
Campers wake up between 0730hrs and 0800hrs. Various activities are planned for the morning session after breakfast. The remaining daytime activities take place in the afternoon after lunch.
Campers are allowed an hour's rest after lunch meals before embarking on the afternoon session. In the evening, campers can converge around the campfire and share interesting stories about their countries of origin. This is also the right moment for the kids to bond and make new friends.
Three delicious and nutrition-rich meals are served every day while a snack is offered every evening. Campers go to sleep at 2100hrs.
Finally
A summer camp programme in Switzerland is something your kids shouldn't miss this coming summer camp season.
Register today to book your child a slot to prevent last-minute disappointments.